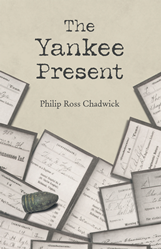 "The Civil War was such an intriguing time in America's history," Chadwick said. "I wanted to bring this time period to life in this story as well as include my own background as a farmer to develop a comprehensive character that interests readers."
CUNNINGHAM, Tenn. (PRWEB) October 28, 2019
Inspired by his passion for the Civil War, Philip Ross Chadwick developed a reflective historical fiction novel entitled "The Yankee Present." This novel follows the main character, Thomas, and the intensity of his life as a confederate soldier.
Thomas' strong Christian values and farming background are presented in various flashbacks throughout "The Yankee Present." He is tempted by a woman who takes care of him while at battle, but he remains faithful to his wife, Jenny, who communicates with Thomas during the war via letters. The end of the novel proves whether Thomas can make it home to his loving wife.
The main character, Thomas, is inspired by a member of the author's family who was in Company B of the Tennessee 14th Infantry—which was part of the Stonewall Brigade. Also, Chadwick himself was a farmer like Thomas.
"The Civil War was such an intriguing time in America's history," Chadwick said. "I wanted to bring this time period to life in this story as well as include my own background as a farmer to develop a comprehensive character that interests readers."
This novel presents the hardships of war and the difficulties that soldiers face. Readers will follow Thomas on his emotional journey as he faces the tribulations of battle and time away from the love of his life.
"The Yankee Present"
By Philip Ross Chadwick
ISBN: 978-1-9736-4489-7 (softcover); 978-1-9736-4490-3 (hardcover); 978-1-9736-4488-0 (electronic)
Available at the WestBow Press Online Bookstore, Amazon and Barnes & Noble.
About the author
Philip Ross Chadwick has engaged in Civil War reenactments and shares his knowledge of the Civil War with students. Also, like his main character, Chadwick was a farmer. Now, Chadwick is a biology teacher at Austin Peay State University – where he has received several degrees. Chadwick has written a short story called "The Ice Box" which was published in "Filling Stations, Shine, and Sorghum Molasses: A Living History of Tennessee West Highland Rim." He currently resides in Cunningham, Tennessee.
For Interview Requests & Review Copies, Please Contact:
LAVIDGE – Phoenix
Krista Tillman
480-648-7560
ktillman@lavidge.com