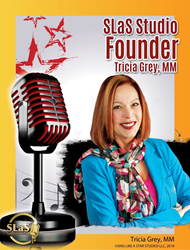 I'm so thrilled to be launching this enormous and comprehensive self-study program for singers and voice teachers.
ATLANTA (PRWEB) September 25, 2019
Esteemed vocal coach Tricia Grey, MM is pleased to announce new subscription-based courses for singers and voice teachers. Utilizing the same methods Grey used to launch countless singing careers, subscribers are privy to a wide range of singing techniques and skills, including innovative breathing methods, ways to extend singing range, learning to sing in contemporary "mix" styles, and developing style by learning how to riff and run.
Grey has a master's degree in music and has served as the vocal coach for countless students over the last 40 years in Los Angeles, New York, Atlanta and in Europe. The teaching methods devised by Grey have helped produced winners on several popular television shows, including The Voice, America's Got Talent and American Idol. Grey trained singing sensation Angelica Hale, myriad stars on Broadway and other professional singers.
As part of their subscription, singers and voice teachers will receive over 400 recorded exercises for males and females, based on Grey's signature Eight Steps of Vocal Development sequential skill-building method. The course includes an extensive instructional manual based on the science of the singing voice. Each chapter includes sections titled How Your Voice Works (the science of the Singing Voice), Tools for Training Voices (the procedure followed to create success in each step), Teaching the Step (objectives, method and communication for each of the Eight Steps of Vocal Development), and Test Your Knowledge (a review of the material in the step).
The manual also includes an extensive Appendix with articles such as How to Break into the Music Industry, Songwriting for the Contemporary Singer, and Succeeding in Musical Theatre.
Grey is confident this service will help singers at any level achieve their vocal development goals and will help voice teachers become more effective at teaching contemporary singing, increasing success rates by attracting and retaining students who want to sing in contemporary styles.
Speaking about the launch of the new service, Grey said "I'm so thrilled to be launching this enormous and comprehensive self-study program for singers and voice teachers. It combines the best of both worlds: the science and background of how the voice works (the manual), with a practical, step-by-step training course of sequential skill-building exercises that will develop a voice from beginner to professional, including how to riff and run like the stars!"
Further, Grey believes it is an "exhilarating" time to be a voice a teacher. Grey said, "If you are a voice teacher who does not play piano well or wants to branch out to CCM and contemporary styles, the 'You Can be a Successful Voice Teacher Course' is for you! If a singer is willing to do the work, you can now provide him or her the tools needed for success."
The cost of the subscription is $49.95 per month, far less than the average annual cost of weekly voice lessons. All the courses are available online, so subscribers can learn from the comfort of their own home and at their own pace.
To learn more about Tricia Grey's exciting new subscription-based service, visit https://www.slascourses.com/.