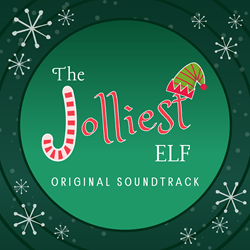 ATLANTA (PRWEB) November 23, 2021
The Jolliest Elf – Original Soundtrack is available now on all streaming platforms via Magic Star, the home of children's and family entertainment at Sony Music UK. Coinciding with the album release is the arrival of The Jolliest Elf Season 1 on Kidoodle.TV and Discovery Kids featuring original tracks from the soundtrack.
The album, The Jolliest Elf, features five original holiday songs and five holiday classics. The album, crafted by Director and Songwriter Chad Eikhoff and Grammy-award-winning producer Samuel AsH, includes original tracks (certain to become classics): "Sprinkles of Christmas," voiced by CRYS and Sprinkles, "Santa, I Have One Request to Make," voiced by Tyra Madison as Dottie, "Happy, Merry Christmas," voiced by Johnny Rez as Twinkle and "Lil' Rey's Reindeer Rap – Remix" voiced by Mac Sauce as Lil' Rey. All of the songs and characters will also appear in the 12-episode-long holiday series debuting on Kidoodle.TV on November 25. The Jolliest Elf is Santa's most exciting competition set at The North Pole where elves compete with their jolly, beautiful singing voices to win the coveted title of "The Jolliest Elf." Viewers vote for their favorite contestants and the winner of Season One will be announced on December 23rd.
Stream the album The Jolliest Elf™ HERE.
The Jolliest Elf Track List:
1. Sprinkles of Christmas
2. Joy to the World
3. Jingle Bells
4. Snowlight
5. Go Tell It on the Mountain
6. Angels We Have Heard on High
7. Lil' Rey's Reindeer Rap – Remix
8. Up on the Housetop
9. Santa, I Have One Request to Make
10. Happy, Merry Christmas
For more information on The Jolliest Elf contact:
Stacy Shade
TRICK 3D
stacy@trick3d.com
About Magic Star
Magic Star is the home of children's and family entertainment at Sony Music UK. Launched in October 2019, the label is dedicated to children's audio- and audio-visual content – from pop music and spoken word to live events for the whole family to share. Their roster includes L.O.L. Surprise! Andy and The Oddsocks, Oscar from Smyths Toys, Yolanda Brown, The Rainbow Collections, Wonderpop and Education Box.
About TRICK 3D
TRICK 3D is a 3D animation and innovation studio. TRICK 3D's roots are in both commercial and original 3D content production, most notably as the production studio that brought the holiday special-turned-classic "The Elf on the Shelf: An Elf's Story" to families everywhere. The studio's client roster includes Turner Broadcasting System, Cartoon Network, The Coca-Cola Company, CNN, Delta Air Lines, Sprout, The Make-A-Wish Foundation and many more. Visit http://www.trick3d.com for more information. For more on The Jolliest Elf, visit http://www.thejolliestelf.com.