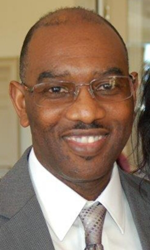 Given that numerous medical procedures require optimal bowel distention, this research played an important role in determining the device's ability to create the airtight seal needed for the prescribed enlargement. - Dr. Cephus Simmons
CHANDLER, Ariz. (PRWEB) October 06, 2020
Dr. Cephus Simmons, a graduate of Trident at American InterContinental University's (Trident) Ph.D. in Health Sciences program, has seen the research he conducted as part of his dissertation support the invention of a patented medical device.
His Ph.D. dissertation, "An Experimental Study of Double-Balloon and Single-Balloon Catheters and the Causal Association with Maintenance of an Air-Tight Rectal Seal and Tissue Damage in White Colony Yorkshire Swine," provided important research needed for a double balloon catheter that is currently on the market.
"The goal of my dissertation was to test the strength of the double balloon catheter," states Dr. Simmons. "Given that numerous medical procedures require optimal bowel distention, this research played an important role in determining the device's ability to create the airtight seal needed for the prescribed enlargement."
His dissertation suggests the double balloon catheter has the capability of improving the efficiency of colorectal procedures by effectively creating a rectal seal without added rectal tissue injury risk. Dr. Ryan Dwight, Director of Doctoral Studies in Trident's College of Health and Human Services, served as Dr. Simmons's dissertation chair.
Dr. Simmons is currently an Associate Professor in the College of Medicine at the Medical University of South Carolina. His academic focus in this role includes radiology fluoroscopic procedures, ultrasound guided procedures, and radiation safety and device innovations.
Since graduation, Dr. Simmons has continued to devote his time to research that will positively impact the public. Last year he presented the electronic poster, "An Innovative Double Balloon Catheter That Creates a Rectal Seal: Evaluation of Applicability to CT Colonography," at the Society of Computed Body Tomography and Magnetic Resonance. He is also actively researching further uses of the catheter he invented, as well as thyroid cancer risks in infants.
Dr. Simmons is a military veteran and has been a career counselor and mentor for elementary and high school-aged students.
Dr. Simmons is a 2019 graduate of Trident's Ph.D. in Health Sciences program. He earned a Master of Radiologic Science from University of North Carolina and a Bachelor of Science in Biology from Francis Marion University.
About Trident at American InterContinental University
Founded in 1998, Trident at American InterContinental University (Trident at AIU) is part of an online postsecondary university serving adult learners. Trident at AIU uses the EdActive™ learning approach, which employs case-based learning in an online setting to teach real-world relevant critical thinking skills designed to enhance the lives and education of students. Trident offers quality associate, bachelor's, master's, and doctoral degree programs and certificates, led by a qualified faculty team, over 80% of whom have doctoral degrees. Trident at AIU is regionally accredited by the Higher Learning Commission (hlcommission.org) and has more than 22,000 alumni with a military affiliation. Trident has received acknowledgements from Washington Monthly, Military Times, and Military Advanced Education & Transition for their dedication to student success. Visit http://www.trident.edu or call at (855) 290-0290 to learn more about Trident at AIU's wide range of educational options.