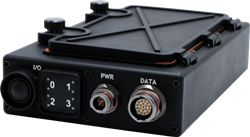 Trident's Mini-SCC is simple to use and effectively links disparate radio systems regardless of the nation's COMSEC.
FAIRFAX, Va. (PRWEB) January 29, 2021
The Mini-SCC supports audio bridging of dissimilar radios including tactical radios, (HF, UHF, VHF), SATCOM, public safety radios, partner nation radios, and cellular networks. A key feature of the Mini-SCC is its ability to cross-link incompatible audio devices regardless of type, half or full-duplex operation, COMSEC or frequency hopset. Multiple independent radio networks can be cross-linked while maintaining their own unique parameters (e.g. encryption, frequency).
Trident's latest generation Mini-SCCv1.1 is a small form-factor (1.55" x 4.15" x 6.28") man-portable unit for mobile operation and field use. It offers multi-channel audio cross-connection, integral audio conferencing, rapid configuration changes, support for AA batteries, 5590 batteries or AC power, MIL-STD environmental and electromagnetic compliant packaging, and waterproof operation.
"Communication interoperability is a challenge for US forces working with alliances and partnerships." said Joe Harrington, Trident's Head of Corporate Development and former NATO Allied Rapid Reaction Corps' Deputy CofS Ops & CG US Army Africa. "Trident's Mini-SCC is simple to use and effectively links disparate radio systems regardless of the nation's COMSEC. US Forces need this capability now to fight more effectively with alliances, partners and when working with other US first responders."
Ease of operation is a hallmark of the Mini-SCC. Operators can setup the Mini-SCC to cross-link radios in seconds, and can configure it for more advanced operation through a simple web-browser. When in operation, the web-browser is not required, and front panel buttons allow for instant configuration changes in the field.
"The Mini-SCC represents our company's focus on providing affordable leading-edge innovation to increase the effectiveness of our warfighters," said James O'Looney, Vice President, Integrated C4I Systems Business Unit. "Trident is proud to support to the Eighth Army with this technology, and we are confident that it will simplify and improve communications with our Korean allies and other partner nations."
About Trident
Trident Systems is a veteran-owned small business that delivers innovative and affordable technology solutions for critical government and commercial needs. Founded in 1985, Trident continues to harness technology and provide leading-edge solutions to every Military Service, the Intelligence Community, and a broad spectrum of government and industry partners. Trident develops products in two primary focus areas: Integrated C4I Systems and Electronic Systems. Trident also provides an array of systems engineering and collaboration services including a full range of design / build services for state-of-the-art facilities including supporting of the Integrated Air Defense System in the National Capital Region. Trident has offices in Fairfax, Virginia (HQ) and Concord, New Hampshire. For more information, visit https://www.tridsys.com/.