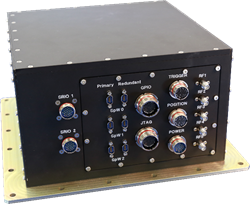 FAIRFAX, Va. (PRWEB) February 07, 2019
Trident Systems, headquartered in Fairfax Virginia, has been awarded a contract by the DARPA Tactical Technology Office (TTO) in the highly competitive payload segment of the Blackjack Program. Blackjack has become one of the most talked about DoD space projects as it is a significant departure from the norm, combining highly networked, resilient and persistent DoD payloads on affordable commercial small satellite busses.
The Trident payload features its 3U VPX UltraScale+ Digital RF Transceiver (UDRT) which combines a heterogeneous processing system with industry leading ultra-high speed data converters for an on-orbit reprogrammable transceiver. The new Trident transceiver will be paired with a high-performance 3U VPX GPU card from Cubic Aerospace and a wideband antenna from FIRST RF Corporation for a multi-function RF payload capable of hosting emerging and future "massless" payloads thanks to its open architecture and highly capable hardware. Trident's capable small business team also includes Blue Ridge Envisioneering to support mission firmware and software design.
"Trident has invested heavily in this new generation of affordable high-performance RF electronics for space," said Nick Karangelen, President of Trident. "We're looking forward to demonstrating multiple RF modalities, on-board processing, and on-orbit reprogrammability from a payload that meets DARPA's very aggressive constraints on size, weight, power, and cost for Blackjack".
About Trident
Trident Systems is a veteran-owned small business that delivers innovative and affordable technology solutions for critical government and commercial needs. Founded in 1985, Trident continues to harness technology and provide leading-edge solutions to every Military Service, the Intelligence Community, and a broad spectrum of government and industry partners. Trident develops products in three primary focus areas: Integrated C4I Systems, Radar & RF Systems, and Assured Collaboration Systems. Trident also provides an array of systems engineering and collaboration services including a full range of design / build services for state of the art facilities including supporting of the Integrated Air Defense System in the National Capital Region. Trident has offices in Fairfax, Virginia (HQ), Raleigh, North Carolina, and Concord, New Hampshire. For more information, visit http://www.tridsys.com/.