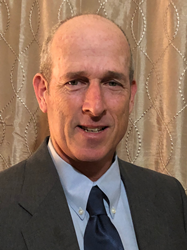 CYPRESS, Calif. (PRWEB) January 03, 2020
Dr. Michael Allison, professor in Trident University International's (Trident) Glenn R. Jones College of Business, presented research at the 2019 Logistics Officers Association Symposium, which was held in October in Oklahoma City.
"F-35 BOLT/LIT: Blended Operational Lightning Technician/Lightning Integrated Technician," presented with Mr. Mike Miles, explores a new approach to maintenance manning that breaks down the old paradigm of strictly hierarchical responsibilities and creates a new construct where mechanics are cross-utilized and placed into small tail teams to better support the F-35 and the small footprint it will employ to fight future wars.  Two fighter units are in the early stages of fielding this new construct and this presentation serves as an update to the broader Armed Forces logistics and maintenance communities.
"The F-35 fighter aircraft maintenance support concept is currently in a reevaluation stage," states Dr. Allison. "As the U.S. Air Force's newest fifth-generation aircraft matures, support innovations are necessary to ensure success during future conflicts."
The Logistics Officers Association Symposium is an annual conference designed to bring together logistics, acquisition, and technology professionals from the Department of Defense, defense industry, and academia. The theme of 2019's Symposium was "Increasing Lethality Today, Readiness for Tomorrow's Fight," which gave leaders in the logistics field an opportunity to collaborate and work towards solutions to the challenges facing those in the contemporary global defense environment.
Dr. Allison has served in the U.S. Armed Forces for over 35 years. He joined Trident in 2003, and currently instructs in the Glenn R. Jones College of Business. His areas of expertise include information overload and anxiety, quality and process improvement, production sciences, ethics, high performing teams, and leadership.
In January 2019, he published the article, "Bend, Don't Break: Optimizing a Resilient Supply Chain" in Exceptional Release, a quarterly journal published by the Logistics Officers Association. Dr. Allison and his co-authors examined logistical concerns faced within military combat situations and how supply chains can cost-effectively support warfighters in the future.
Dr. Allison earned a Ph.D. in Business Administration from Touro University International. He holds three master's degrees – in strategic studies, political and military affairs, and logistics management, and a Bachelor of Science in Professional Aeronautics from Embry-Riddle Aeronautical University.
About Trident University
Founded in 1998, Trident University International (Trident) is an online postsecondary university serving adult learners. Trident uses the EdActive™ learning approach, which employs case-based learning in an online setting to teach real-world relevant critical thinking skills to enhance the lives and education of students. Trident offers quality associate's, bachelor's, master's, and doctoral degree programs and certificates, led by a qualified faculty team, over 80% of whom have doctoral degrees. Trident is regionally accredited by the WASC Senior College and University Commission (WSCUC) and has more than 22,000 with a military affiliation. The University has received multiple acknowledgements from Military Times and Military Advanced Education & Transition for their dedication to military-affiliated students. Visit http://www.trident.edu, Trident's Facebook page, or call at (855) 290-0290 to learn more about Trident's wide range of educational options.