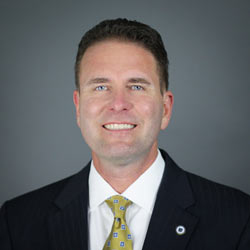 My key findings suggest that successful insurance agents should have a prominent digital presence and an ability to produce either organic or paid website traffic. - James Shiver
CHANDLER, Ariz. (PRWEB) December 08, 2021
James Shiver, a current student in Trident University International's (Trident) Doctor of Business Administration (DBA) program, presented research from his Doctoral Study Project (DSP), "Examination of Digital Marketing and Consumer Behavior Related to Independent Insurance and Financial Services Professionals."
This presentation was part of the Trident's CORE webinar series and was hosted by Dr. Indira Guzman, Doctoral Studies Director in Trident's College of Business.
Shiver is the Manager of Trident's Center for Career Planning and Workforce Strategies and is a faculty member in the Glenn R. Jones College of Business. In his capacity in the Career Center, he is responsible for providing quality online tools, resources and services to assist students and alumni with career planning and development.
Shiver is a 20-year military veteran, where he held various leadership roles as a senior personnel and program manager. He is also a digital entrepreneur in the insurance and financial services space, as well as a volunteer with a number of community-based veteran and civic organizations.
His DSP committee was chaired by Dr. Mark Young and included valuable guidance from committee members Dr. Angie Cox and Dr. Christopher Linski.
Shiver's DSP was driven by a desire to understand which digital marketing strategies and consumer behaviors can be used to increase online market share of an online life insurance service.
Through consumer questionnaires, follow-up interviews, and agent interviews, Shiver gained valuable knowledge from both industry professionals and customers. Furthermore, obtaining feedback from consumers and agents in follow-up interviews played a key role in helping Shiver to fully understand the tactics and behaviors that drive success in the insurance and financial services industries.
"My key findings suggest that successful insurance agents should have a prominent digital presence and an ability to produce either organic or paid website traffic," observes Shiver. "For the examined organization, my specific recommendations are to optimize digital presence, leverage paid leads, incorporate paid traffic, develop organic traffic, and focus on a positive consumer experience."
Shiver currently holds two degrees from Trident – a Master in Business Administration and Bachelor of Science in Health Sciences. Upon the completion of his DBA, he will become a Trident Triple, which is a small group of alumni who have earned three or more degrees from Trident.
Launched in May 2015, the CORE webinar series is designed to provide faculty, students, and alumni an opportunity to share their research and skills with the Trident community.
Coordinating this effort are Trident's Doctoral Studies Directors, Dr. Heidi Smith, Dean, College of Education , Dr. Indira Guzman, Glenn R. Jones College of Business, Dr. Ryan Dwight, College of Health and Human Services, and Dr. Wenling Li, College of Education. Each college takes turns hosting webinars throughout the year, covering subject matter relevant to Trident's six doctoral programs.
Over the course of more than 50 webinars, the CORE series has served as a forum for development for doctoral students and alumni, with topics covering the Ph.D. dissertation process, writing for doctoral research, publishing in academic journals, and more. Past presenters include Trident faculty members, doctoral alumni, and current students.
An archived version of the webinar can be accessed here.
About Trident University International
Founded in 1998, Trident University International is a member of the American InterContinental University System, which is accredited by the Higher Learning Commission (hlcommission.org). Trident uses the EdActive™ learning approach, which employs case-based learning in an online setting to teach real-world relevant critical thinking skills designed to enhance the lives and education of students. Trident offers quality associate, bachelor's, master's, and doctoral degree programs and certificates, led by a qualified faculty team, over 80% of whom have doctoral degrees. Trident has over 32,000 alumni, of which more than 27,000 have a military affiliation, and has received acknowledgements from Washington Monthly, Military Times, and Military Advanced Education & Transition for their dedication to student success. Visit http://www.trident.edu or call at (855) 290-0290 to learn more about Trident's wide range of educational options.