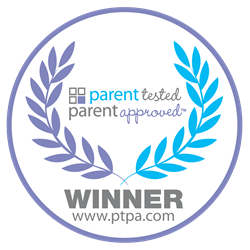 Parents are 86% more likely to make a purchase based on the recommendations of other parents
NEW YORK (PRWEB) September 14, 2021
Parent Tested Parent Approved (PTPA), the leader in trusted consumer product awards for families, announced today the highly-anticipated recipients of its coveted Seal of Approval award.
Comprising more than 200,000 parents and based on the principle of unbiased and authentic trials from North America's largest parent testing community, recipients of the coveted award were selected based on criteria such as outstanding product functionality, value and innovation.
"Parents are 86% more likely to make a purchase based on the recommendations of other parents," said Sharon Vinderine, founder and CEO, PTPA Media. "The Seal of Approval acts as a powerful symbol of trust and recognition, giving parents the ability to make confident purchasing decisions while distinguishing the top products from other comparable brands. That's the power of word-of-mouth marketing — we trust what others have to say when we know they're unbiased and have nothing to gain. And moms trust moms — that's just a fact."
This season's award recipients include products that champion innovation and quality, while addressing many parents' desire to shop for items that are safe, a friend to the planet, diverse, and generally make parents lives easier or offer a refreshing lift to cope with the year ahead. See the complete list of winners below.
Full list of PTPA Award Recipients as tested and selected by the PTPA community of moms:
Company: Aeris
Winning Product: Aeris aair Lite – a small, stylish and mighty air purifier for bedrooms, offices and other smaller spaces that removes viruses, bacteria, allergens, mold, and smoke.
Company: AirPop
Winning Product: AirPop Pocket Mask/Kids Mask – this go-to reusable face mask features an adaptive fit that supports facial contours, an anti-fogging seal preventing condensation during eyeglass wear, and adjustable nose-bridge for a perfect, comfortable seal.
Company: Barmy
Winning Product: Barmy Weighted Lap Blanket – Perfect for adults and kids alike, this weighted lap blanket provides comfort, relaxation and sensory stimulation, with the added convenience of a removable washable cover.
Company: Bearaby
Product: Bearaby Nappling – comprised of multiple layers of soft organic cotton, this weighted blanket for kids is highly breathable, promotes thermal regulation and is cozy and calming as can be.
Company: Brittanie's Thyme
Winning Products: Brittanie's Thyme Natural Hand Soap – Family-owned and operated and handcrafted in small batches, this luxurious hand soap is made with pure essential oils and botanical ingredients that will effectively wash away germs while promoting skin healing and hydration.
Company: Momeez Choice
Winning Product: Momeez Choice Lolleez - Organic, Non-GMO, gluten, dairy, nut free and worry-free throat soothing lollipops for kids.
Company: Coleman Natural
Winning Products:

Coleman Natural No Sugar Uncured Applewood Smoked Bacon
Coleman Natural Uncured Hickory Smoked Bacon
Hardwood smoked over real Applewood and Hickory, Coleman Natural Uncured Bacon products are sourced from farms that are 100% crate-free and never use antibiotics or added hormones. There are no added nitrates or nitrites and no artificial ingredients, making this bacon the perfect choice to feed your family better.
Company: HelloFresh
Winning Product: HelloFresh Meal Kit Delivery – amidst a sea of competitors, HelloFresh stands out consistently as the leader in providing fresh, pre-portioned ingredients and delicious recipes to thousands of households each week.
Company: Jada Toys
Winning Product: Jada Toys B-Kind Dolls – this eco-friendly collection of diverse dolls promotes positive messages of kindness and compassion towards our environment, animals and each other.
Company: Medela
Winning Product: Medela Family App - a true partner through pregnancy, childbirth and beyond, this app has multiple convenience features and allows you to track important stats for pregnancy, baby and breastfeeding, while providing tips and support to help you meet your goals.
Company: Natrol
Winning Products:

Natrol Kids Melatonin Fast Dissolve Tablets
Natrol Kids Melatonin Gummies
Natrol Kids Sleep+ Calm
Natrol Kids Sleep+ Immune Health
Take comfort in achieving high quality sleep for your littles with this wide range of drug-free sleep aids.
Company: pNeo
Winning Product: pNeo Stoplight Golight - Keep early risers in bed longer with a timer that uses a traffic light concept to help kids manage their time.
Company: PI Kids
Winning Product: PI Kids Electronic Me Reader and 8-Book Library - Your early reader will love taking that first step from being read to, to reading on their own, with this highly interactive reading adventure, featuring sound effects, music, beautiful visuals and all the tools they need to evolve into capable young readers.
Company: Storkcraft
Winning Products:

Activity Walker
Chests, Dressers & Changing Tables
Cribs
Gliders
Mattresses and Changing Pads
Youth Beds
Family-owned and operated since 1945, Storkcraft offers safe, stylish and innovative nursery & kids bedroom furniture for families across North America.
How Winners Are Determined
Parents across North America participate in the testing process at no cost to them. They evaluate the products with their families in real-life environments. Their feedback and evaluations are carefully tallied and curated. Products that meet their standards earn the coveted PTPA Seal of Approval, which can be leveraged on the packaging, advertising, end-cap displays, and more. News of the victory is shared among our community of more than 200,000 families. Independent research has confirmed that the PTPA Seal of Approval ranks as one of the most recognized seals in North America.
About PTPA Media Inc.
PTPA Media certifies innovative products that families can trust. By connecting manufacturers with consumers, PTPA Media helps companies serve their markets better and helps families identify products that have been tested and recommended by their peers. For more information, visit http://www.ptpaawards.com Consumers can participate in testing opportunities by visiting ptpa.com and joining our community.