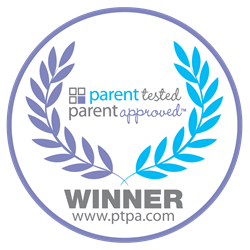 The Seal of Approval acts as a powerful symbol of trust and recognition
NEW YORK (PRWEB) November 23, 2021
Parent Tested Parent Approved (PTPA), the leader in consumer product awards for families, announced today the highly-anticipated recipients of its coveted Seal of Approval award.
Comprising more than 200,000 parents and based on the principle of unbiased and authentic trials from North America's largest parent testing community, recipients of the coveted award were selected based on criteria such as outstanding product functionality, value and innovation.
"Parents are 86% more likely to make a purchase based on the recommendations of other parents," said Sharon Vinderine, founder and CEO, PTPA Media. "The Seal of Approval acts as a powerful symbol of trust and recognition, giving parents the ability to make confident purchasing decisions while distinguishing the top products from other comparable brands. That's the power of word-of-mouth marketing — we trust what others have to say when we know they're unbiased and have nothing to gain. And moms trust moms — that's just a fact."
This season's award recipients include products that champion innovation and quality, while addressing many parents' desire to shop for items that are sustainable and generally make parents lives easier.
See the complete list of winners below and by clicking HERE.
Company: Chesand Gregory
Winning Product: Did Santa Wear A Mask?
Company: Dyper Inc.
Winning Product: DYPER Sustainable Diapers
Company: Medela
Winning Product: Swing Maxi
Company: Boiess
Product: Boiess Eau de Cologne Les Enfants
Company: Litenfresh
Winning Products: Lite N' Fresh
Company: Qeepsake
Winning Product: Qeepsake app
Company: Shaklee
Winning Products: Meology Kids
Company: pNEO
Winning Product: Shusher
Company: Pok Pok Inc.
Winning Product: Pok Pok Playroom
Company: Bibado
Winning Product: Bibado coverall
How Winners Are Determined
Parents across North America participate in the testing process at no cost to them. They evaluate the products with their families in real-life environments. Their feedback and evaluations are carefully tallied and curated. Products that meet their standards earn the coveted PTPA Seal of Approval, which can be leveraged on the packaging, advertising, end-cap displays, and more. News of the victory is shared among our community of more than 200,000 families. Independent research has confirmed that the PTPA Seal of Approval ranks as one of the most recognized seals in North America.
About PTPA Media Inc.
PTPA Media certifies innovative products that families can trust. By connecting manufacturers with consumers, PTPA Media helps companies serve their markets better and helps families identify products that have been tested and recommended by their peers. For more information, visit http://www.ptpaawards.com.