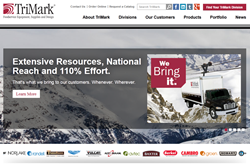 The new website is the embodiment of our newly focused brand, which is centered on making success happen for our customers.
South Attleboro, MA (PRWEB) May 01, 2014
TriMark USA introduced its new website, http://www.trimarkusa.com. The website features new design and functionality, along with helpful information and resources for customers.
Along with daily blog posts, the site includes project portfolios and case studies, expanded product information and videos from featured manufacturers, as well as news and information about TriMark's Divisions. Customers can also sign up for a free monthly e-newsletter packed with ideas on how to save energy, reduce labor costs and boost their bottom line.
"The new website is the embodiment of our newly focused brand, which is centered on making success happen for our customers," said TriMark USA Corporate Director of Marketing, Patrick Maness.
The website puts greater emphasis on each TriMark operating Division. Each Division now has its own dedicated home that showcases its unique capabilities and success stories. The goal is to leverage synergies across the company, while maintaining the individuality and strengths of each operating Division.
The TriMark USA website features the following:

New Design and Functionality: The site reflects the newly focused TriMark brand, as well as a "Find Your TriMark Division" tool that helps visitors move along to the appropriate Division's home.
More Content and Resources: Featuring new content, information and resources, http://www.trimarkusa.com gives customers an easy way to research products from featured manufacturers and make informed buying decisions.
"It's all about replicating the offline experience online, which is far beyond being a source for equipment and supplies," continued Maness. "It gives our customers the knowledge and insight they need to compete and succeed."
About TriMark USA
TriMark USA is the country's largest provider of equipment, supplies and design services to the foodservice industry. TriMark offers foodservice operators an unparalleled level of service by combining the hands-on support and local market knowledge of a strong regional supplier with the purchasing strength, industry expertise, delivery, and installation capabilities of a national company.
TriMark Divisions include TriMark United East in South Attleboro, MA; TriMark Strategic in Coppell, TX with locations in Texas, Florida, Georgia, Tennessee, and Minnesota; TriMark Marlinn in Chicago, IL; TriMark SS Kemp in Cleveland, OH, Pittsburgh, PA, and Cincinnati, OH; TriMark Foodcraft in Winston-Salem, NC; TriMark Century Concepts in Atlanta, GA; TriMark Raygal in Irvine, CA; TriMark Economy Restaurant Fixtures in San Francisco and Sacramento, CA; TriMark Gill Group in Crofton, MD, TriMark Gill Marketing in Phoenix, AZ; TriMark RobertClark in Irvine, CA; TriMark Federighi Design in Richmond, CA; and BigTray in San Francisco, CA.