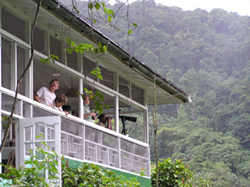 "This February will be my fifth visit to Asa Wright Nature Centre in 25 years. Each time is just as special as the first visit - can't wait to be back on the Verandah."
(PRWEB) November 30, 2014
Naturalist Journeys, a top rated birding and nature company that operates Caligo Ventures, announces that the Asa Wright Nature Centre (AWNC) in Trinidad has been named one of the best birdwatching destinations in the world by The Globe and Mail. As the oldest nature center in the West Indies, AWNC has long been a leader in birding and ecotourism. The Globe and Mail praises the Centre's fantastic views and diverse species.
"Trinidad's Asa Wright Nature Centre overlooks a rain forest. You can watch colorful honeycreepers, tanagers and motmots and listen to the distant sounds of the bearded bellbird," says field guide author Lillian Stokes.
Trinidad is a unique destination for travelers because it is home to a rich mixture of Caribbean and South American birds explains Naturalist Journey's Caligo Ventures program coordinator, Peg Abbott. She explains that the Asa Wright Nature Centre has long been considered the best birdwatching location in the Caribbean region because of its diverse array of habitats, number and variety of species, and expert local guides.
The Centre, according to Abbott, is also home to the world's most accessible Oilbird cave, which is possible to visit with a three night stay or more at the lodge. Oilbirds are avian oddities, nocturnal, fruit-eating birds recently named by Yale University ecologists as the #1 conservation priority species of the world's 9993 birds, valued for their unparalleled ecological distinctiveness. AWNC staff have spent decades carefully monitoring Oilbird breeding success to safeguard their future on the Centre's property.
The Globe and Mail also lauds AWNC's field excursions across Trinidad. Stokes notes that you can spend the day birding on AWNC's extensive property, "then take a trip to the Caroni Swamp where large numbers of scarlet ibis roost at dusk." Over a dozen excursions are available throughout Trinidad, with additional tour extension options on the sister island of Tobago.
The Asa Wright Nature Centre was established as a not-for-profit trust in 1967 and has been a leader in ecotourism ever since. It is has been widely recognized by birders and naturalists, while also achieving a 2014 Certificate of Excellence from Trip Advisor.
Caligo Ventures, a program of Naturalist Journeys, is the exclusive booking agent for the Asa Wright Nature Centre in North America. They offer both guided group and independent birding ventures led by expert local guides.
Find the full Globe and Mail article here: http://www.theglobeandmail.com/life/travel/activities-and-interests/from-motmots-to-tomtits-discover-the-worlds-best-birdwatching/article21398019/
About Naturalist Journeys
Naturalist Journeys is a nature-travel company based in Portal, Arizona. They strive to support eco-tourism throughout the U.S. and beyond, through small-group guided journeys, often in co-operation with local non-profit groups and communities. A lead program is that of Caligo Ventures, operated in support of the non-profit Asa Wright Nature Centre of Trinidad. Visit their website or request a free brochure by email on the company website, or by calling toll-free: 866 900-1146.