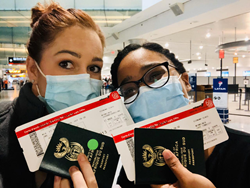 Trip Concierge went above and beyond in every aspect. Thank you for all the hard work and the time you have taken to make this trip less stressful.
LAS VEGAS (PRWEB) May 04, 2020
Trip Concierge Inc. announced today that it was able to successfully and safely repatriate three dozen South Africans, ranging in age from mid-20s to early 30s, after all commercial flights to South Africa ceased due to a government imposed lock down.
It was far from the smooth conclusion to their U.S. experience they had envisioned when they arrived here in early January. Part of Staffing Accountants ("SAPRO"), they had each flown across the Atlantic full of optimism about a terrific opportunity: to fulfill a short-term work commitment with a respected U.S. accounting firm, thus enhancing their work credentials while enjoying the cultural experience of living in an exciting foreign city.
But when the coronavirus began slamming into communities across the United States back in mid-March, members of the group found themselves suddenly let go, as the companies they were working with abruptly cut back on expenses in the face of the looming economic crisis. Subsequently, the South African Government announced that, as of March 26, it was closing its borders to anyone trying to enter the country. And in a swift third blow, every commercial flight into South Africa was cancelled through June.
"We were checking in with each of our consultants daily," says SAPRO co-founder and co-CEO Dario Grassini. "We wanted to make sure they were safe; physically, mentally, and emotionally. And at the same time we were calling on one of our secret weapons, Trip Concierge, whose CEO Thomas Schneider coordinated transporting all our people from across the country and housing them in various Marriott Hotels, while we worked tirelessly to find them a way home to South Africa."
Eventually, through the combined efforts of Trip Concierge, SAPRO and Workaway, a large employer of young South Africans to work in the hospitality industry in Florida, a private charter flight was arranged with Ethiopian Airlines and permits received from the South African government. After a health screening at Miami International Airport, all passengers embarked on their return flight on Thursday, arriving safely in Johannesburg last Friday.
ABOUT TRIP CONCIERGE
Based in Las Vegas, Nevada Trip Concierge is an award-winning business travel agency committed to reducing stress and anxiety for the business traveler, while offering the world's best travel experience. The Company is an independent affiliate of Nexion, a subsidiary of Travel Leaders, the largest network of professional travel agents in North America. The co-founders of Trip Concierge are successful entrepreneurs who previously IPO'ed their last company on the Toronto Venture Exchange and are joined by a development team that hail from global Fortune 500 companies like Facebook, Procter & Gamble and SAP.
ABOUT SAPRO STAFFING ACCOUNTANTS
SAPRO Staffing Accountants, based in New York City with offices in Johannesburg and Brisbane, is a global talent mobility and training company. Its core focus is supporting public accounting firms with experienced contingent audit, accounting, advisory, and tax resources, while providing its consultants with ongoing professional development and enriching cultural experiences.