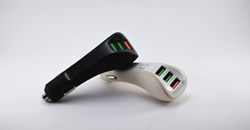 TripDongle records and analyzes all driving data to help people gain new insight into how their time, money and miles are being spent.
SAN JOSE, Calif. (PRWEB) October 28, 2019
In an average year, Americans spend 70 billion hours on the road. Whether the drive is a required commute or for leisurely travel, people are looking for ways to cut costs and ensure peace of mind. Today, TripDongle launched a Kickstarter campaign in the hopes of raising $15,000 to help make car travel more convenient worldwide. To help people track, share, and use trip data to save time and money, TripDongle is the new personal driving assistant that plugs into a vehicle's USB port or power socket and shares data via a smartphone app.
"We created TripDongle to help people who drive almost every day," said Pooja Chidra, founder of TripDongle. "Whether you're a business professional or the parent of a teenage child with a driver's license, or both, our product will make it easier to manage your daily routine more efficiently. TripDongle records and analyzes all driving data to help people gain new insight into how their time, money and miles are being spent."
When the user's car is turned on, TripDongle is powered and connects via Bluetooth Low Energy to the companion app on the driver's smartphone, without interrupting Infotainment services. TripDongle is compatible with all the cars. Users can automatically log every trip and visualize driving history. TripDongle automatically captures and organizes the information into easily readable charts and graphs to better optimize or plan future driving. TripDongle is ideal for individuals who are self-employed, drive for a transportation service (Uber, Lyft, etc.) or required to travel in their personal vehicle for their job as they can easily generate tax deduction reports via the app.
TripDongle will provide live ETA tracking for parents or family members to monitor loved ones on the road. By initiating shared user permissions with family members, selected persons will receive access to all driving data generated. Parents can receive alerts if children drive faster than what they think is safe or if they drive out of a designated geofence. Live ETA tracking can be useful when giving a ride to a friend at the airport, fighting traffic to make a meeting, or picking a child up from school or practice. If parents carpool to practice, TripDongle can help calculate gas costs by easily posting the trip costs to SplitWise, saving you the effort of gas receipt collection.
TripDongle users can quickly locate where they parked on a busy day too. TripDongle automatically remembers the car's parked location and shows how far away it is — the app even launches navigation guidance towards it. Users can set parking expiration timers that feature a countdown on a phone's lock screen. TripDongle's app will send alerts to help keep track of how long the car has been parked and when the meter may need to be topped up.
Users can charge devices at lightning speed with its Qualcomm Quick Charge certified smart charger that charges two times as fast as a regular charger. TripDongle has three USB charging ports, two regular USB ports and one USB-C port. All of these benefits are included with a one-time purchase of TripDongle. The companion app is available for free in the App store. TripDongle is available in black or white to match the personal style of the user's car.
TripDongle is currently available for pre-order on Kickstarter for $19 USD. For more information about the campaign or to place an order, visit pr.go2.fund/tripdongle.
About TripDongle
TripDongle believes that members of society should be able to take control of the thousands of miles, dollars and hours they spend on commuting, road trips, and tickets. They created the product and application combination to streamline driving by connecting cars and smartphones to help people track, share and use trip data to save money and time. This product also lets people monitor loved ones on the road, keep people informed about the delays and post road trips on social media. While the companion app uses several smartphone features such as the GPS, TripDongle hardware serves as an important guide that enables a completely automated user experience. To learn more, visit tripdongle.com.