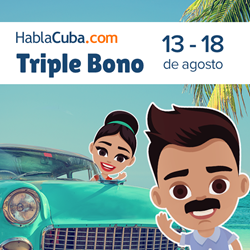 ATLANTA (PRWEB) August 12, 2018
People are used to seeing "3" all around us since early childhood. The king has 3 daughters, the prince has to pass 3 tests to prove his worthiness, miracles happen after 3 days of patience. So keeping the same pattern, HablaCuba.com announces the new Cubacel offer: triple bono for Cubacel recharges sent to Cuba starting August 13 until August 18.
Here is how the amount sent triples just like magic:
20 CUC - 60 CUC sent
40 CUC - 120 CUC sent
60 CUC - 180 CUC sent
80 CUC - 240 CUC sent
The promotional balance may be used for all services available to prepaid users like domestic and international calls, SMS, including Nauta email. The promotional bonus will expire on September 8th 2018 at 23:59 Cuba time. Customers will receive a SMS a few days before the expiration date of extra bonus.
Top ups of 40 CUC or more will be divided into 2 or 3 separate top ups, so that you receive the maximum bonus possible. The recharges may arrive several minutes apart.
Extra, extra, read all about it: contest awarding 3 prizes!
In the meantime, HablaCuba.com is waiting for Cuban expats on HablaCuba.com Facebook page with an awesome Facebook contest: customers are requested to tag in a comment 3 friends they would like to take with them on their next trip to Cuba and they can win one of the 3 Cubacel top ups HablaCuba.com is offering as a prize. The contest is open until August 14.
All services HablaCuba.com offers revolve around the website's mission, which is to bring people together, no matter the distance, because no distance is too long if people stay connected. HablaCuba.com offers a great solution for keeping a close relationship with everyone living back home in Cuba, due to:
the customer-focused approach, based on safe and easy to use services
the frequent special offers: bonuses on international top ups or discounts on international calls
the great Customer Service available 24/7, both in English and in Spanish.
Or, as customers put it: "Your consumer friendly instructions make it easy to cross borders and communicate with friends and family like it should be." (HablaCuba.com customer).
About HablaCuba.com
HablaCuba.com is an interactive website designed by KeepCalling, a global telecommunications company registered in 2002 in USA. Presently, KeepCalling provides its services to hundreds of thousands of consumers, with a focus on customer satisfaction. KeepCalling has been listed by Inc 5000 as one of the fastest growing companies in the USA for 5 consecutive years. In 2015 the company registered a revenue increase of over 200% from 2011 to 2014.