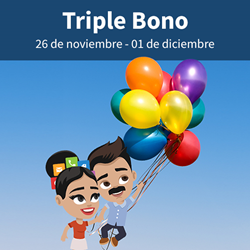 ATLANTA (PRWEB) November 25, 2018
For all those Cuban expats who are waiting anxiously the promo that multiplies the values of the international mobile recharges they send to Cuba, HablaCuba.com has good news: Triple Bono offer will be available between November 26 - December 1.
Here is how Triple Bono campaign works:

It turns 40 CUC into 120 CUC
It turns 60 CUC into 180 CUC
It turns 80 CUC into 240 CUC
The promotion will run from Monday November 26th, 2018 00:01 Cuba time to Saturday, December 1st, 2018 23:59 Cuba time. Promotional balance can be used for local and International calls and SMS (Including SMS entumóvil).
Promotional balance does not apply to Nauta email from mobile phones or MMS, main balance will be deducted.
In the meantime, HablaCuba.com customers are invited on HablaCuba.com Facebook page to join a lovely contest. All they have to do is to share one thing they are grateful for on our Facebook page and they get the chance to win a free top up. The contest will be open until November 26 and the winner will be picked randomly on November 27.
Besides sending top ups, customers can also recharge their family's and friends' Nauta accounts, in order to help them gain access to the internet. Or, if they prefer calling, they can also use HablaCuba.com's calling services. Customers can place their calls:

From any landline, mobile or even payphone in the world, through access numbers.
Through the smartphone app called KeepCalling, available for iOS and Android.
The rate for international calls to Cuba is 69.9¢/min, for both landlines and mobiles, and the cost of a text message is 7¢.
All services HablaCuba.com offers revolve around the website's mission, which is to bring people together, no matter the distance, because no distance is too long if people stay connected. HablaCuba.com offers a great solution for keeping a close relationship with everyone living back home in Cuba, due to:

the customer-focused approach, based on safe and easy to use services
the frequent special offers: bonuses on international top ups or discounts on international calls
the great Customer Service available 24/7, both in English and in Spanish.
Or, as customers put it: "Your consumer friendly instructions make it easy to cross borders and communicate with friends and family like it should be." (HablaCuba.com customer).
About HablaCuba.com
HablaCuba.com is an interactive website designed by KeepCalling, a global telecommunications company registered in 2002 in USA. Presently, KeepCalling provides its services to hundreds of thousands of consumers, with a focus on customer satisfaction. KeepCalling has been listed by Inc 5000 as one of the fastest growing companies in the USA for 5 consecutive years. In 2015 the company registered a revenue increase of over 200% from 2011 to 2014.