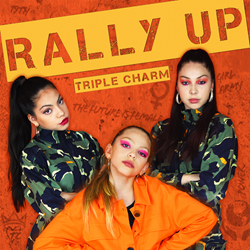 Women all around the world are still facing inequalities and that inspires us to be a voice of inspiration, especially to young girls.
LOS ANGELES (PRWEB) August 28, 2020
In an era of uncertain times, the positive messages shared by musical trio Triple Charm are a much needed and uplifting battle cry. Sisters Amalia (16), Raena (14), and Gabriella (11), create empowering and motivational songs that make you want to sing along and dance as much as they make you want to go out and conquer the world.
Based in Orlando, Florida, Triple Charm's journey began with Amalia's dream to be on Broadway. It wasn't long before Raena and Gabriella became inspired to start singing as well, and the trio began writing songs together, working on choreography, and growing a strong social media following with their TikTok and Instagram-based dance challenges.
In 2019, Triple Charm's songwriting took center stage, and they released their inaugural single and video for "​Move On​," an energetic and upbeat tune about self-confidence with an anti-bullying message. Co-written by the sisters with pop songwriter ​Heather J. Miley (Selena Gomez, Kelly Clarkson, Jason Derulo) and producer Dan Whittemore (Sebastian Javier, All Time Low, Zedd), it was the trio's first time in a recording studio and they thrived in the collaborative process.
In early 2020, they headed back in the recording studio again, this time creating the bold and empowering single, "Rally Up," co-written by the trio with ​Heather J. Miley and Viv Parker, who both produced the song. Their newly released single, along with the accompanying music video — their second directed by Nayip Ramos — was choreographed by Ellen Kim (Madison Beer, Tiffany Young and KDA for ​League of Legends), and sees the sisters taking cues from K-pop, including dancers in face masks, a fierce girl squad, lots of camouflage, and declarations that "The Future is Female."
In the meantime, Amalia, Raena, and Gabriella embrace quarantine life with a level of activity and motivation that would give their musical heroes ​Lady Gaga, Little Mix, Beyoncé, and Demi Lovato a run for their money. ​A typical day for Triple Charm involves homeschooling assignments, exercising, creating content for their social media (check out their TikTok and Instagram channels for inspiration), responding to fans, singing practice, studying music theory, and collaborative songwriting.
So what's next for Triple Charm? The sisters have several other singles in the pipeline, plans to resume touring post-COVID, and would love to get involved with positive change through ocean conservation, mental health awareness advocacy, and the Girls Opportunity Alliance. "Women all around the world are still facing inequalities and that inspires us to be a voice of inspiration, especially to young girls," says the trio. Wishful thinking? Not for these talented sisters, they run with the motto: Don't call it a dream, call it a plan!
Listen to "Rally Up" now streaming on all platforms: https://ampl.ink/wPk2l.