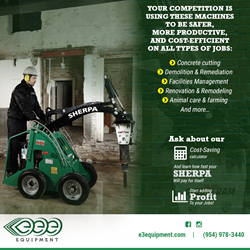 "What we've demonstrated with Triple E Equipment is that there is a great need for a compact and green solution to work quietly and without producing harmful fumes indoors. The construction industry is changing." Alex Berg, CEO
POMPANO BEACH, Fla. (PRWEB) September 10, 2019
Triple E Equipment continues to show outstanding growth.
The construction equipment company was recently named to Inc. 5000 for the 2nd straight year.
From 2015 to 2018, Triple E Equipment grew by 317 percent, which is excellent for any business, but particularly one in the construction equipment industry. The company has made a commitment to manufacturing quality products that are good for the planet, and it is clear that they are resonating with construction and landscaping firms.
According to Triple E Equipment Founder and CEO, Alex Berg, "What we've demonstrated with Triple E Equipment is that there is a great need for a compact and green solution to work quietly and without producing harmful fumes indoors. The construction industry is changing. Contractors, workers and owners are looking for new ways, and new technologies, to get the job done while reducing injury risk and increasing efficiencies." Berg notes that Triple E Equipment is approaching 1,000 units deployed throughout the United States and Canada.
It is because of its exceptional growth that Triple E was named to Inc. 5000, Inc. Magazine's annual list of the fastest-growing privately held companies in the U.S. for the second year in a row, coming in at number 1297. The list, generated each year since 1982, ranks companies based on their percentage of revenue growth. Over the years, there have been many notable names on the Inc. 5000, including Yelp, Microsoft, GoPro, Under Armour, LinkedIn, Orange Theory Fitness and Pandora.
According to Business Insider, Miami Florida is ranked number 8 on the hottest cities for startups. Located in Pompano Beach, Florida, just north of Miami, Triple E was number 35 on Inc. 5000's list of the top Miami FL area businesses. The 1297 ranking also makes Triple E the highest-ranked member of the American Rental Association (ARA) for the second year in a row.
About Triple E Equipment
Founded in 2013, Triple E Equipment manufactures battery-powered equipment for the construction, demolition, and landscaping industries. The company's mission is to create safe and energy efficient equipment that benefits the companies using them as well as the environment. In addition to producing innovative equipment, Triple E is also dedicated to providing exceptional customer service and support.
For more information about Triple E Equipment, please call Alex Berg at 954-978-3440 or send an email to info(at)eeeequipment(dot)com.