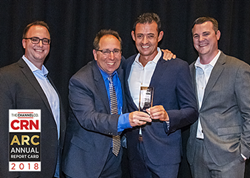 We take pride in the resources we offer, because our partners' success is our number one mission.
CHICAGO (PRWEB) September 10, 2018
Tripp Lite, a world-leading manufacturer of power protection and connectivity solutions, captured an award in the 33rd CRN® Annual Report Card (ARC) program, presented by The Channel Company. Tripp Lite received the Partnership award in the subcategory of Power Protection and Management.
The ARC awards are based on results of a comprehensive survey measuring solution providers' satisfaction with their vendor partners. The vendors with the highest ratings across product innovation, support and partnership are named to the prestigious Annual Report Card list of winners and are celebrated as best in class by their partners.
"It truly is an honor to be recognized by our partners for the support we provide to encourage their profitability and success," said Shane Kilfoil, Tripp Lite's Senior Vice President of Global Sales. "We take pride in the resources we offer, because our partners' success is our number one mission."
"An ARC award is one of the industry's most prestigious honors. It symbolizes a vendor's dedication to delivering high quality and innovative product and program offerings to their channel partners," said Bob Skelley, CEO, The Channel Company. "CRN's Annual Report Card provides solution providers with the rare opportunity to offer their invaluable insight on vendors' products and services, as well as their partner programs. As a result, the technology suppliers are equipped with actionable feedback to bolster their efforts to remain the best of the best."
This year's honorees were selected from the results of an in-depth, by-invitation-only survey by The Channel Company's research team. More than 3,000 solution providers were asked to evaluate their satisfaction with more than 65 vendor partners in 24 major product categories. The winners were honored at The Channel Company's XChange 2018 conference August 19-21 in San Antonio, TX.
The 2018 Annual Report Card results can be viewed online at http://www.crn.com/arc and will be featured in the October issue of CRN.