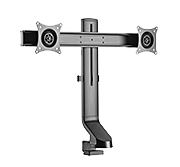 "Tripp Lite's display solutions allow you to change the height of your monitor without interrupting your workday," said Karenann Brow, Director of Product Marketing for Surge, Power Strips and Display Mounts.
CHICAGO (PRWEB) December 12, 2019
Tripp Lite, a global manufacturer of power protection and connectivity solutions, has made it easy to adjust the height of desk monitors at home or the office.
Adjusting the height of desktop flat-panel displays often requires fasteners or knobs to be loosened, the display adjusted manually and then the fasteners or knobs tightened to secure the position. Tripp Lite's newest desk mounts (DDR1732SC and DDR1727DC) offer height adjustment with a simple turn of the easy-grip knob, which raises or lowers the display to the desired height. The mounts include a clamp for attachment to the edge of a desk or table, as well as a grommet for mounting through the desktop.
Tripp Lite's vertical-lift stand (DDV1727S) offers another option for easy height adjustment. Detents along the vertical support provide 10 height settings. Pulling the display to the uppermost position and then lowering it to the desired height is all it takes to position the display at a comfortable viewing level. A heavy-duty base keeps the mount stable on a desk or table during adjustment.
"Tripp Lite's new display solutions allow you to change the height of your monitor without interrupting your workday," said Karenann Brow, Director of Product Marketing for Surge, Power Strips and Display Mounts. "Swivel, tilt and screen rotation adjustments also help you achieve the perfect viewing angle. The slim profile of the mounts makes them great accessories for sit-stand desks and workstations."
------------------------------------------
Key Features of Tripp Lite's New Display Mounts

Models for flat-panel screens from 17 to 32 inches
Single- and dual-screen mounts with easy-grip knob for height adjustment
Single-screen stand with vertical-lift height adjustment
Screen rotation, swivel and tilt adjustments
Compatibility with VESA mounting hole patterns
Included mounting hardware