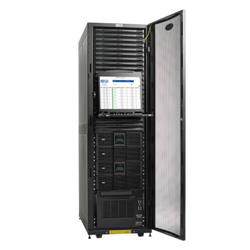 "With 40 different stock configurations, companies of all sizes now have a broad range of options for quickly and reliably implementing edge applications. Even customized models can ship in as little as five business days."
CHICAGO (PRWEB) September 19, 2019
Tripp Lite, a global manufacturer of power protection and connectivity solutions, will showcase its new line of micro data centers at SpiceWorld 2019, September 23-25, at the Austin Convention Center, Austin, TX.
Tripp Lite's EdgeReady micro data centers combine a rack, UPS system, PDU, environmental sensor, network management card and downloadable power management software. Expertly configured, assembled and tested before shipment, these solutions help make it easier for IT managers to deploy edge computing. The models can also be customized with options like active cooling.
"We're looking forward to showing members of the Spiceworks community our new solutions for edge-of-network applications," said Tony Locker, Tripp Lite's Vice President of Product Management, Enterprise Solutions. "These are the industry's first and only micro data centers that are assembled, tested and ready to ship three business days after the receipt of an order. With 40 different stock configurations, companies of all sizes now have a broad range of options for quickly and reliably implementing edge applications. Even customized models can ship in as little as five business days."
In addition to the micro data centers, Tripp Lite will show other IT infrastructure products from its selection of over 4,500 items, including PDUs, KVMs and connectivity solutions.
SpiceWorld is an annual technology conference hosted by Spiceworks, bringing thousands of IT professionals and tech vendors together for three days of how-to sessions, networking and hands-on experiences with the latest IT products and solutions. Tripp Lite will be located in booth 10A in the exhibit hall.
About Tripp Lite
Since 1922, Tripp Lite has established a global reputation for quality by providing reliable products and exceptional service to customers worldwide. From desktop to critical infrastructure, Tripp Lite products and solutions power and connect the computers, networking equipment and electronic devices that form the foundation of our digital world. Headquartered in Chicago, Tripp Lite manufactures UPS systems, cables, connectivity solutions, PDUs, racks, cooling solutions, KVM switches, console servers, charging stations, display mounts, surge protectors, power strips, network switches, power inverters and specialty products for data center, healthcare, government, education and digital signage applications. Learn more at https://www.tripplite.com
About Spiceworks
Spiceworks is the marketplace that connects the IT industry to help technology buyers and sellers get their jobs done, every day. The company helps people in the world's businesses find, adopt and manage the latest technologies, while also helping IT brands build, market and support better products and services. Founded in 2006 and headquartered in Austin, TX, Spiceworks empowers people to use technology to make their organizations, their communities and the world better. For more information, visit https://www.spiceworks.com.
---------------------------------------------
---------------------------------------------
https://www.tripplite.com * 1.773.869.1776