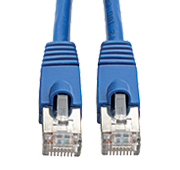 This is the standard organizations should be relying on – both for current PoE needs and to prepare their infrastructure for expanded PoE adoption in the future."
CHICAGO (PRWEB) September 26, 2019
Tripp Lite, a global manufacturer of power protection and connectivity solutions, is one of the first cable manufacturers to achieve UL CMR-LP certification for PoE safety for its new Cat6/6a cable series. These cables are tested to support up to 100W power delivery without exceeding their listed temperature rating, a critical safety standard for organizations with PoE installations.
"CMR-LP cable is certified specifically for PoE applications," said David Posner, Tripp Lite's Director of Product Marketing, Connectivity. "This is the standard organizations should be relying on – both for current PoE needs and to prepare their infrastructure for expanded PoE adoption in the future."
These new Cat6/6a cables connect high-speed LAN equipment with up to 10 Gbps network speed. With a range of up to 50 feet, they are ideal for powering a multitude of dispersed IoT (Internet of Things)
devices. Smaller than standard Cat6 Ethernet cables, they allow for better airflow to support equipment cooling and are easier to install in dense data center environments. Their foil shielding (F/UTP) construction minimizes EMI/RFI line noise and crosstalk with adjacent cables to promote a strong signal between mission-critical IT equipment.
The new Cat6/6a cables are part of a growing line of Tripp Lite products that support PoE applications, including PoE switches, PoE injectors and PoE extenders. Read more about this product line at tripplite.com.
Key Features

UL CMR-LP-certified for reliable temperature rating in PoE applications
Up to 10 Gbps data transfer rates for high-speed networks
Up to 100W power delivery for PoE devices
F/UTP shielding technology for EMI/RFI line noise filtering and improved heat dissipation
Slimmer than standard Cat6a cables for easier installation in dense IT infrastructure
Lengths up to 50 feet for connecting hard-to-reach devices
Large 23-gauge cable design for more efficient power delivery
Covered by a lifetime limited warranty
About Tripp Lite
Since 1922, Tripp Lite has established a global reputation for quality by providing reliable products and exceptional service to customers worldwide. From desktop to critical infrastructure, Tripp Lite products and solutions power and connect the computers, networking equipment and electronic devices that form the foundation of our digital world. Headquartered in Chicago, Tripp Lite manufactures UPS systems, cables, connectivity solutions, PDUs, racks, cooling solutions, KVM switches, console servers, charging stations, display mounts, surge protectors, power strips, network switches, power inverters and specialty products for data center, healthcare, government, education and digital signage applications. Learn more at https://www.tripplite.com.
https://www.tripplite.com * 1.773.869.1776