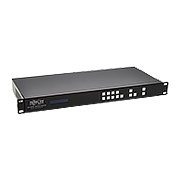 CHICAGO (PRWEB) March 16, 2021
Tripp Lite, a global manufacturer of power protection and connectivity solutions, makes it easy to share and manage 4K video and stereo audio from multiple HDMI sources in conference rooms, classrooms and home theaters.
Tripp Lite's B302-series Matrix Switch/Splitters with Audio Extractor, Multi-Resolution Support and IP Access connect HDMI source devices, such as laptops, Blu-ray disc players, video game systems and cable/satellite boxes, to multiple HDMI-enabled monitors, televisions or projectors. Models are available with four HDMI inputs and outputs (4x4) and eight HDMI inputs and outputs (8x8). The same or different content can be shown on connected displays.
The matrix switch/splitters support high dynamic range (HDR) signals and true 4K video resolutions up to 4096 x 2160 at 60 Hz. Multi-resolution support allows video to be shown at the highest resolution of each individual monitor, rather than the lowest common resolution.
Users can easily switch between connected video sources using the front-panel buttons, the included IR remote, RS-232 serial commands or control software. The switch/splitters can save up to 12 source/display combinations. For remote access to the software graphical user interface (GUI), users can configure their network to match the switch/splitter's pre-assigned IP address.
"Matrix switches are flexible solutions because users can mix and match source devices and displays and easily make changes," said David Posner, Vice President, Connectivity and Peripherals. "Tripp Lite's new 4K HDMI Matrix Switch/Splitters go a step further with the ability to save source/display settings and remotely access the switches via a connected PC or laptop. The switches are a great solution for installations with HD displays in different areas."
Key Features of Tripp Lite's 4K HDMI Matrix Switch/Splitters

4x4 and 8x8 models with audio extractor
Ability to mix and match HDMI video sources and displays
Support for true 4K video resolutions up to 4096 x 2160 at 60 Hz
User-friendly switching between sources
Pre-assigned IP address to support remote access
Learn more about Tripp Lite's 4K HDMI Switch/Splitters
See Tripp Lite's full line of digital signage and audio/video solutions at tripplite.com