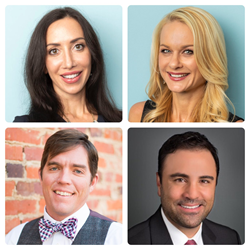 We are pleased to welcome Dr. Petros and Dr. Stong to the Behind Closed Doors community, and we trust that their sponsorship will provide thought-provoking and relevant discussion for our listeners, says Dr. Kate Balestrieri of Behind Closed Doors
BEVERLY HILLS, Calif. (PRWEB) August 16, 2018
"We are pleased to welcome Dr. Petros and Dr. Stong to the Behind Closed Doors community, and we trust that their sponsorship will provide thought-provoking and relevant discussion for our listeners," says Dr. Kate Balestrieri of Behind Closed Doors.
Dr. James Petros is the Founder and Medical Director of Allied Pain & Spine Institute, an innovative pain and spinal care practice in San Jose, CA. An accomplished clinician, researcher, national author and speaker, Dr. Petros holds many distinctions as a Top Patient-Rated Physician, Top 10 California Doctor and Leading Physicians of the World. As a new sponsor of Behind Closed Doors with Dr. Kate and Lauren, Dr. Petros will answer questions pertaining to pain and addiction, and provide valuable insight into the emotional impact of pain.
As founder and owner of Kalos Facial Plastic Surgery, LLC, in Atlanta, GA., Dr. Benjamin C. Stong is among an elite group of facial plastic surgeons in the country that are double board certified and fellowship trained. Dr. Stong performs a full spectrum of facial plastic and reconstructive surgeries. In addition, Dr. Stong provides cutting-edge skin rejuvenation treatments at The K Spa, his exclusive medical day spa. During the on-air broadcast, Dr. Kate and Lauren will interview Dr. Stong on aesthetics and facial plastic surgery, as it corresponds to self-perception among various multimedia platforms.
With individualized assessments and innovative therapies designed for individuals, couples and families, Triune Therapy Group is founded on the principle that healthy relationships are key to living a happy, fulfilled life. Thus, the Brentwood clinic incorporates a blend of therapeutic intervention treatments designed to pace with each patient. Executive Director and Co-Founder, Dr. Kate Balestrieri, Psy. D., CSAT-S and Clinical Director and Co-Founder Lauren Dummit, LMFT, CSAT, host the popular L.A. radio show, Behind Closed Doors. Both timely and provocative, discussions range from men, women and confidence, to aspects of betrayal, sex addiction, narcissism, sexual and relational health and wellness.
More About Dr. James Petros:
Dr. James Petros is the founder of Allied Pain & Spine Institute, subspecializing in pain management and musculoskeletal rehabilitation. With his diverse professional and person backgrounds, Dr. Petros has transcended the science of pain medicine and captured the art of his practice. His integrated approach and balanced understanding of injury and illnesses are testaments to his unique style. Dr. Petros is an accomplished clinician, researcher, author, and regional speaker in the areas of injury and functional rehabilitation. He also works with Boston Scientific in the area of pain management. Dr. Petros reached the culmination of his medical education and training at Stanford University Medical Center, has received numerous honors and awards along his extensive journey. Please call (408) 528-8833 or visit myalliedpain.com
More About Dr. Ben Stong:
Owner and facial plastic surgeon, Dr. Benjamin Stong is dual board certified in Head and Neck Surgery and Facial Plastic and Reconstructive Surgery. For the fourth year in a row, Dr. Benjamin Stong of Kalos Facial Plastic Surgery, LLC in Atlanta, Georgia was named a 2018 "Top Doctor" by Castle Connolly. He completed his fellowship under one of the most nationally renowned plastic surgeons, Dr. Andrew Jacono in New York. Call Kalos at (404) 963-6665 or visit kalos-plasticsurgery.com.
More About Triune Therapy Group:
With empathy, empowerment and innovation, Triune Therapy Group harnesses the power of neuroscience, attachment therapy, somatic modalities, cognitive therapy and other therapeutic interventions to provide expert care for individuals, couples and families. From sex and/or love addiction to infidelity trauma, intimacy disorders, sexual dysfunction, codependence, addiction, compulsive behaviors, body disorders and more, the team at Triune Therapy Group provides an array of specialized services, including intensives and workshops. Ultimately, the goal of treatment is to help patients recover from unhealthy patterns with a full-circle approach that will create a sense of balance and hope for the future. To learn more about Triune Therapy Group or the radio show, Behind Closed Doors, call (310) 933 – 4088 or visit https://www.triunetherapy.com.