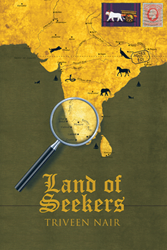 MUSCAT, Oman (PRWEB) August 24, 2017
A vastly travelled man through Africa, Middle East and Asia, author Triveen Nair took a sabbatical to pen "Land of Seekers" (published by Partridge Singapore). Having lived a significant time in some of the places where the narrative evolves, he picks on the lesser known aspects of colonization effortlessly without losing the high pace set as a thriller.
Set in the year 1766 A.D., vying for the vast wealth of gold and trading interest for spices are several European powers plying the trade routes of Arabian Sea and the Indian Ocean. Pitting rulers against each other for a slice or even the whole pie to plunder are the British and the French off the Kerala Coast.
The English under Robert Clive in the North East and the royal state of Mysore with its wily half breed defector ruler in the South West, gets drawn into making the moves for the ultimate prize, the billion gold sterling treasury of Calicut. Who will grab the loot and exploit the resource, from the three kingdoms on the south western Coast of India? Into this chaos descends a young Omani warrior, a British alchemy enthusiast and a strikingly beautiful Hindu girl from Chitral, Afghanistan escorted by a prolific warrior from Malabar.
To add to this, when three kings die within a week, all hell breaks loose as they look for the traitor in their midst. From London to Calcutta, Zanzibar to Calicut, Lisbon to Kalhat and Peshawar to Venice stretches this eventful canvas, cunningly overlaid in history narrative which leaves readers breathless. Engrossing and engaging, it takes the readers back into all its rawness of nature, mortals and of unintended consequences.
"Land of Seekers"
By Triveen Nair
Hardcover | 6x9in | 314 pages | ISBN 9781543740790
Softcover | 6x9in | 314 pages | ISBN 9781543740776
E-Book | 314 pages | ISBN 9781543740783
Available at Amazon and Barnes & Noble
About the Author
Triveen Nair was born in Kerala, India. He spent his early childhood and schooling from St. Vincent's Irish school near Calcutta. He is a widely-travelled person. He left his last assignment as business head - Asia, Middle East and Africa to follow his passion in research and engagements. His wife is a very well known and accomplished interior designer in the Middle East, a daughter who is studying film and communication and a young school-going son makes up his family along with a pet peacock. For more information about the author, visit his website at http://www.triveennair.com or contact triveen(at)yahoo(dot)com.
Partridge Singapore, an imprint in partnership with Penguin Random House Singapore, aims to help writers in Singapore, Malaysia, and the rest of Southeast Asia become published authors. Partridge Singapore gives authors in the region direct access to a comprehensive range of expert publishing services that meet industry standards but are more accessible to the market. For more information or to publish a book, visit http://www.partridgepublishing.com/singapore or call 800 101 2657 (Singapore) or 1 800 81 7340 (Malaysia). For the latest, follow @PartridgeSG on Twitter.