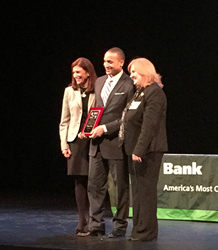 New York, NY (PRWEB) February 05, 2015
Troinet, the industry leader in customized IT solutions for small and medium-sized businesses, today announced it was recently recognized by the Staten Island Chamber of Commerce for excellence in business and contributions to the Staten Island community.
The 5 Borough Chamber Alliance of New York City honored Troinet CEO Wayne Roye at the first-ever 5 Borough Chamber MWBE Recognition Award Ceremony on January 22nd.
Held at Pace University's Schimmel Center on Thursday January 22, the dinner and awards ceremony was hosted by Emmy-award winning NBC 4 Consumer Reporter Lynda Baquero and sponsored by TD Bank.
Roye leads strategic business consulting firm Troinet in its mission to leverage technology to shape the way the modern era does everyday business. His innovative thinking has transformed the way companies adapt, view and use technology. Roye's belief: not to supply a company with an IT help desk, but to become partners with a company, helping them grow and achieve their goals through a targeted technology strategy.
Founded in Staten Island in 1999, the Troinet team strives for better business via the use of technology. The company's success is built on meaningful relationships, client support and offering solutions that are a customized fit for each client's technology needs.
Roye has years of experience in the IT field and holds a Bachelor in Engineering Science with a minor in Computer Science. He is certified MCSE, CCNA, VOIP Specialization & Architect, CCA, CCA, CCSP, CCDA, & VSP. Roye is a former board member of the Eden II program for Autistic Children, as well as a past board member of the Staten Island Chamber Of Commerce and the Head of Technology Committee for the Chamber. A past member of the Economic Development Center Business Council, Roye is a graduate of the Goldman Sach's 10,000 Small Business program and has received the '40 under 40' business award.
For more information on Troinet, visit http://www.troinet.com or visit our Facebook community at https://www.facebook.com/pages/Troinet/135188689879004.
About Troinet:
Founded in 1999, Troinet began with a mission to help small and medium-sized businesses obtain real return on technology investments. Since then, we have remained dedicated to providing state-of-the-art IT support, service and products that allow our clients to get ahead of the competition and achieve greater success. We pride ourselves on customized solutions that humanize the technology experience, creating a valued partnership with those we serve. For more information on our services, visit http://www.troinet.com.