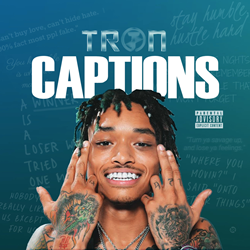 "I'm excited to be able to share the visual for this single with fans. I received so much love on Instagram and TikTok with dance interpretations."
ATLANTA (PRWEB) March 26, 2020
Pop/Hip Hop artist Tron will partner with digital distribution and fan engagement platform ONErpm to release the highly-anticipated video for his viral single "Captions" on Friday, March 27th at midnight. Realizing we currently reside in a digital culture, the song is a celebration of positivity through social media engagement. "Im excited to be able to share the official visual for this single. I got so much love from fans on Instagram and TikTok. I hope they enjoy it," Tron says. "Partnering with ONErpm is exciting. They've been a great so far and we are just getting started."
At the end of 2019 'Captions' went viral with over two million impressions of dance videos to the single including one of Tron's mother Chilli (TLC) dancing to the record in front of a tour bus while on tour. The song continues to be a fan favorite for dance videos on Instagram and Tik Tok.
"Captions" is the first single from Tron's upcoming EP.
Watch the official video for "Captions" here:
Subscribe to Tron's YouTube page for music updates here: