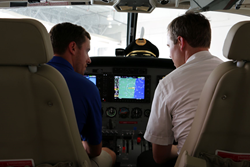 Providing a clearly defined career path for young, ambitious pilots will be an industry game-changer.
FORT LAUDERDALE, Fla. (PRWEB) December 19, 2018
Tropic Ocean Airways, a global industry leader in seaplane operations, teamed with Delta Air Lines Subsidiary Endeavor Air to launch its new Aviator Career Enhancement (ACE) Program. The ACE Program will provide commercial pilots with invaluable mentorship, professional development, and a defined career pathway to potentially become a pilot at a major airline.
"We recognize the need to attract more young people to the aviation profession," said Tropic Ocean Airways' Founder and CEO, Rob Ceravolo. "In order to do this, we must show them that we're willing to invest in their growth and create a path to the major airlines. We give them invaluable experience, making them more attractive to airlines. Our partnership with Endeavor Air in this recruiting effort will prepare our future pilots for an exciting career. Providing a clearly defined career path for young, ambitious pilots will be an industry game-changer."
Tropic Ocean Airways hires qualified pilots with a minimum of 250 accumulated flight hours. When a pilot meets the required qualifications, they are eligible to interview for enrollment in the ACE Program with representatives from Tropic Ocean Airways. Tropic Ocean Airways' pilots admitted into the ACE Program receive a guaranteed employment interview with Endeavor, eliminating the guess work of the next career move, once the candidate satisfies his or her flight time requirements with Tropic Ocean Airways. Pilots in the ACE Program will be able to build important, airline-specific flight time to gain experience. Their experience includes getting to enjoy building time flying seaplanes to some of the most challenging, unique, and picturesque destinations throughout Florida, the Northeast U.S., The Bahamas, and the Caribbean, experience for which airlines are looking. This experience is far superior to traditional methods of flight time building, which focuses on hours rather than airline flying. Tropic Ocean Airways makes a significant investment in preparing future pilots through the ACE program. This investment occurs over a significant time period and goes over and above industry standards.
The ACE Program develops future captains using Tropic Ocean Airways' specialized training curriculum which has been developed to align with Endeavor Air's Part 121 flight operations procedures. Its program is modeled after U.S. Navy flight training best practices. Pilots in the ACE Program receive prioritized flight training, professional development coaching, and career mentorship.
With Endeavor's industry leading hourly pay rates, fast upgrade times, and growing fleet, the ACE Program presents a clear and defined pathway for Tropic Ocean Airways' pilots who are focused on career advancement. After launching Part 121 careers at Endeavor, pilots will have access to Endeavor's exclusive Delta Guaranteed Interview (DGI) Program for qualifying Endeavor captains.
"Tropic Ocean Airways provides a top-notch operation for pilots looking to expand their skills and develop their professional experience prior to starting their careers in the regional industry." said David Garrison, CEO, Endeavor Air. "We see the ACE Program as a truly unique venture where Tropic Ocean pilots can prepare themselves for the next step in their career progression, while refining the requisite credentials we look for in ideal pilot candidates."
About Tropic Ocean Airways
South Florida-based Tropic Ocean Airways is a U.S. certificated commuter air carrier, providing first-class luxury private charter and scheduled service flights was founded by U.S. Navy TOPGUN fighter pilot Rob Ceravolo in 2009. The airline will safely transport 35,000 guests in 2018 throughout destinations in Florida, the Northeast U.S., The Bahamas, and the Caribbean. Tropic Ocean Airways is the recipient of the highly-coveted ARGUS Gold rating for safety and enjoys a five-star customer service rating on TripAdvisor. Ceravolo and his team of over 100 experienced aviation professionals have developed and implemented standard operating procedures borrowed from the U.S. military, which ensure the highest levels of safety and service aboard each flight. To learn more about Tropic Ocean Airways, visit Flytropic.com.
About Endeavor Air
Endeavor Air, a wholly-owned subsidiary of Delta Air Lines, is based in Minneapolis, Minnesota and operates more than 800 flights per day to more than 130 destinations across the United States, Canada, and the Bahamas. Endeavor operates the world's largest fleet of Bombardier CRJ-900 aircraft from five crew bases and ten maintenance stations across the country. To learn more about Endeavor Air, visit EndeavorAir.com.