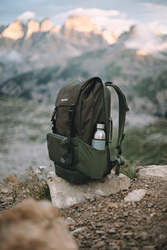 BARCELONA, Spain (PRWEB) November 19, 2020
Tropicfeel, a company that focuses on using upcycled materials, natural fabrics and compostable packaging, is a hit with travelers who care about the earth and want to simplify their lives.
The Shell backpack has surpassed its crowdfunding goal by 33-times on Kickstarter, currently raising over 1.9 million dollars and counting and will soon shift to Indiegogo InDemand.
Tropicfeel's Shell backpack and wardrobe system features a minimalist 3-in-1 adaptable design that seamlessly transitions to suit the commuter, weekender, and traveler by transforming into three different sizes: compressed 22L, normal 30L and expanded 40L21L.
"After years of research and development, we knew we had a product people would love, so we're not surprised we surpassed our goal on Kickstarter," said Alberto Espinos, Tropicfeel founder & CEO. "We are confident that momentum will continue with Indiegogo."
Additional accessories for The Shell are also available for purchase that include: a camera cube to protect camera equipment, pocket pouch for quick easy access to items and a toiletry bag.
For more information on Tropicfeel and to pre-order the Shell backpack, visit the campaign page on Kickstarter.
About Tropicfeel:
Tropicfeel burst onto the scene in 2017 with the aim of creating the ultimate go-anywhere shoe for travelers: lightweight, stylish and sustainable. The first shoe - Monsoon - launched through crowdfunding in 2018 and quickly became the most-funded shoe in Kickstarter history.
Tropicfeel is a community of travel lovers committed to leaving a positive footprint. We inspire conscious travel through high quality, versatile and sustainable travel gear.
Designed with the planet in mind, Tropicfeel's products focus on using upcycled materials, natural fabrics and compostable packaging. The crowdfunding model allows the brand to efficiently forecast demand and production needs, keep stock inventories low and avoid over-production.