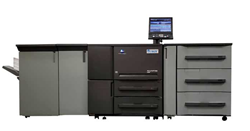 "Through our partnership with Konica Minolta we are setting the standard in production check printing solutions for anti-tamper payments," said Michael Riley, Executive Vice President/General Manager at TROY Group, Inc.
WHEELING, W.Va. (PRWEB) June 16, 2020
The leader in MICR payment solutions and a leader in production printing have combined forces to produce a unique MICR production printer enabled with anti-tamper consumables. Together, the TROY 6136P MICR AccurioPress leverages KM's long history of print innovation and introduces TROY's patented, MICR Toner Secure™ technology. Finished payments are high quality and reliable for seamless bank clearing with the added benefit of anti-tamper protection TROY customers expect.
Development Expertise Pays Off
Recognizing the need for a production solution to fill a void in the secure, high volume payment printing space, the collaboration between KM and TROY engineering groups required an exhaustive amount of testing to refine. Introducing the concept of secure printing to the KM production print team, the companies worked closely to commercialize the TROY 6136P MICR AccurioPress.
Dedicated, Monochrome MICR Printer with Powerful Inline Finishing Options
KM is well-known for print hardware innovation, including robust paper handling technology. With up to 11 input trays and 728 finishing configurations, the 6136P MICR solution can efficiently create fully finished check books, payment books, high volume check batches, or any document at risk for tampering.
The 6136P MICR is a digital monochrome printer with industry-leading print output of 136ppm. High digital press production with 18,000-sheet max paper capacity means longer runs and less reloading. Plus, advanced job management support for operators simplifies output work and reduces labor costs.
The Intelligent Quality Optimizer automatically corrects density and front-to-back registration for accurate payment reading and clearing. With perfect binding, staple and hole punch finishing, a multi-folding unit, a large capacity stacker, and more, the 6136P MICR redefines high-volume quality for higher productivity. With superior image quality and reliability, the 6136P MICR helps businesses reach new levels of efficiency and profitability.
With the Rise of Check Fraud, Anti-Tamper Technology is Needed for All Printed Payments
Research shows that check fraud is on the rise due to lack of controls placed within the check printing workflow. Recent trends indicate organizations are placing higher emphasis on digital security, failing to adequately address check printing/payment protocols.
To help combat payment fraud, all 6136P MICR solutions will include TROY's patented MICR Toner Secure. Formulated specifically for the AccurioPress, MICR Toner Secure releases a red dye if chemical alteration is attempted.
TROY's expertise in MICR toner development guarantees consistent MICR character quality and the use of MICR Toner Secure guarantees The World's Most Fraud Resistant MICR Toner™. The 6136P MICR includes custom MICR fonts (E-13B and CMC-7) designed specifically by TROY for this unique solution to ensure consistent MICR character quality. Created in an ISO compliant facility, TROY MICR toner meets or exceeds ANSI/ABA standards for check printing and MICR quality.
End-to-End Production Built to Perform in Mid-to-High-Volume Environments
Scalable and flexible for mid-to-high-volume printing environments, the TROY 6136P MICR AccurioPress delivers the ultimate in productivity and high versatility for media handling. Combined with TROY anti-tamper MICR technology, quality, and reliability, ALL printed output will deter payment fraud.
About TROY Group, Inc.
TROY Group, Inc. is a worldwide leader of secure on-demand printing solutions. TROY solutions manage, secure, and simplify end-to-end enterprise printing environments. TROY offers application software, security printing hardware and specialized consumables for securely printing checks, money orders, transcripts, prescriptions and other important documents. TROY solutions are used by small and medium size businesses as well as large enterprises and governmental organizations to manage fraud, operational risk and comply with government regulations related to protecting information privacy.