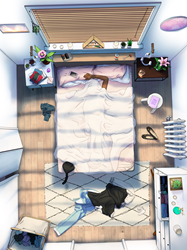 We see futures of caring, pro-social technology.
TORONTO (PRWEB) July 01, 2020
Emotionally conscious AI developer TRU LUV has announced a new phase of development and a hiring round following an undisclosed amount of funding from a slate of mission-aligned investors. The company behind the award-winning app #SelfCare publicly revealed these investors for the first time today, including: conscious and impact investors Real Ventures, Evolve Ventures, and Bridge Builders Collaborative, and interactive media specialists Aldeon and Everblue Management.
TRU LUV's founder, emotion AI expert Brie Code (Assassin's Creed, Child of Light), and her team of diverse creatives seek to heal our relationship with technology. TRU LUV has developed a new intuitive, heart-centered model of human-computer interaction -- "emotionally conscious AI" -- by working in co-creation with marginalized communities whose voices have been drastically underrepresented in the tech industry.
Brie asked her team, "What is AI made by artists and witches?" Their experimental answer: #SelfCare, an app that has no score or winning but instead offers virtual meditative rituals such as laundry, tarot cards and a cat. It was named one of Apple's Best of 2018 Trend of the Year selections and has surpassed 2 million downloads with no advertising.
"We see futures of caring, pro-social technology," said Brie. "Within #SelfCare we've proven a completely new interaction model of deepening care and compassion as an alternative to the gamification model of rising challenge, fear, shock, or FOMO. We're thrilled to collaborate with investors who share and actively support our vision, and now we're growing our team of mission-aligned developers."
Julius Mokrauer, Managing Director at Evolve Ventures and Foundation (working with Insight Timer, 10% Happier and the Center for Humane Technology), who teaches Launching Social Ventures at Columbia Business School, said, "We support visionary, high-potential founders who alleviate inner suffering and transform lives at scale. We are honored to partner with Brie, a one-of-a-kind visionary, a sought-after changemaker and an ambitious leader with an exhilarating passion for healing."
JS Cournoyer, Founding Partner at Real Ventures and Co-Founder at Element AI, continued, "TRU LUV's model exclusively leverages systems that increase wellbeing, helping each of us shift our experience from shock and fear to love and insight. TRU LUV demonstrates how our future is being built by conscious leaders, entrepreneurs, and communities who embody love consciousness and co-create institutions in alignment with it."
The app #SelfCare has been celebrated by outlets such as the Guardian and BBC as an "antidote to adrenalised gaming content" and a "great little tech-savvy way to get some much deserved relief." In a wellness industry now worth over $4 trillion, this new phase of investment and team expansion will help TRU LUV create AI companions who communicate intuitively and share interactions designed to be beneficial to the human spirit.
TRU LUV is hiring for several key positions including Technical Lead and AI Programmer. TRU LUV's internal culture of conscious self-leadership, community development and their AI architecture are interwoven into one unified framework of values and developmental paths co-created by all team members. Team members are also supported by in-house mentoring and ongoing developmental opportunities.
"I built a category-creating business and recognized immediately how transformative TRU LUV's technology is," said Susana Meza Graham, Founding Partner at Aldeon and former COO at Paradox Interactive. "TRU LUV shares our deep understanding of how business and impact feed each other."
Charlie Hartwell, Managing Partner at Bridge Builders Collaborative summed it up well: "Having cultivated a global movement around mindfulness (Insight Timer, Headspace, Muse), we're now focused on deeper shifts in humanity from awareness to integration. We see TRU LUV's mission as revolutionary as they nurture a paradigm shift in the way we create and experience technology."
ABOUT TRU LUV
TRU LUV is transforming our relationship with technology. TRU LUV's AI companions are not personal assistants, apps nor games, but a new category of human-computer interaction that feels like friendship. TRU LUV's first experimental companion, #SelfCare, was one of Apple's Best of 2018 Trends of the Year selections, and TRU LUV was Canada's first startup to attend Apple Entrepreneur Camp in 2020. TRU LUV is based in Toronto and is currently recruiting in Eastern Time or Central Time.
ABOUT BRIE CODE
Brie Code is the founder and CEO of TRU LUV, a Toronto-based AI company transforming our relationship with technology. TRU LUV's first experimental companion, #SelfCare, was one of Apple's Best of 2018 Trends of the Year selections. Brie spent 2016–18 traveling to discuss human-computer interaction with major games studios and people who find video games boring. Previously she was a lead AI programmer at Ubisoft on the soft, ethereal game Child of Light and three Assassin's Creed games.
ABOUT REAL VENTURES
Real Ventures serves mission-driven entrepreneurs and nurtures the communities in which they thrive. Established in 2007, the firm backs visionary founders building innovative tech companies that will have large-scale positive impacts on society. The firm also helps entrepreneurs to realize the full potential of their companies by providing them with the guidance, stage-specific help and communities required to develop the self-awareness and operational capabilities for global success. Real has invested in over 280 companies across five funds, with $330 million under management. Real's active portfolio companies have a total current value of over $5 billion.
ABOUT EVOLVE VENTURES AND FOUNDATION
Evolve Ventures is a $100 million early-stage venture fund focused on impact. With a presence in the San Francisco Bay Area, New York and Shanghai, Evolve supports conscious, mission-driven visionaries who use technology to create platforms, applications and initiatives focused on alleviating inner suffering and facilitating personal transformation. While they prioritize impact over profit, they believe that in the coming decade many important and profitable companies will be created to address the world's growing mental health challenges and to facilitate the evolution of human consciousness so that we can all live our lives to the fullest and share our unique gifts with the world. The principals of Evolve co-founded one of China's most successful venture capital funds and co-managed one of the first large early-stage impact venture funds in the U.S. Recent investments include Insight Timer, Parent Lab, Fabriq, and 10% Happier.
ABOUT BRIDGE BUILDERS COLLABORATIVE
Bridge Builders Collaborative is passionate about funding entrepreneurs that can help humanity evolve to deeper levels of conscious awareness. Bridge Builders has helped fuel a global movement around mind-training and mindfulness having invested in such companies as Headspace, Happify, Insight Timer, Pear Therapeutics, and Interaxon (makers of the Muse Headband). Recently, the partners of Bridge Builders agreed that the next stage of their evolution would be to invest in Going Deeper. The group strives to be a collaboration for fueling deeper shifts in humanity, from awareness to integration, personal to social wellness, and from faster alone to better together.
ABOUT ALDEON
Aldeon is a newly formed independent investment company focused on working alongside visionaries and their founding teams within the games and tech space from their early stages. Preferring close relationships with carefully selected few investments, Aldeon's partners bring their combined experience, competences, contacts, and capital to empower founders to build great companies with a long-term perspective. The new initiative is based in Sweden and currently has 20 holdings.
For more information, visit TRU LUV's press kit and download #SelfCare on the Apple App Store.
For all media inquiries including interviews, contact TRU LUV Brand Director Eve Thomas at press@truluv.ai.
Instagram: @luvtruluv
Twitter: @luvtruluv
LinkedIn: TRU LUV