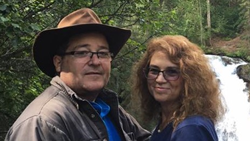 We have a great team here in Spokane and we could not have achieved this recognition without the contributions of each team member! They have a real desire and ability to adapt to customers' needs... - Steve Magyar
SPOKANE, Wash. (PRWEB) June 10, 2020
TruBlue Total House Care, the national franchise that provides full-service home maintenance, is pleased to announce that Steve and Sue Magyar, the local owners of TruBlue of Spokane, have been recognized with the company's Rookie of the Year Award.
"It was an honor to present the award to Steve and Sue at our annual conference. Not only are they off to a great start with their franchise, they are also just great people. They truly live the values of TruBlue by providing exceptional personalized service to their area. I'm proud to have the Magyars representing TruBlue in their community," TruBlue President Sean Fitzgerald said.
TruBlue is a full-service house care company that offers both bundled and unbundled services in Spokane, WA and the surrounding areas.
Clients looking for dependable, high-quality, individual services can hire TruBlue for handyman repairs, cleaning services, emergency repairs, landscaping, seasonal services and minor home renovations. For clients looking for total house care solutions – especially seniors and busy families who want the comfort and convenience of owning a home without worrying about the maintenance hassles – TruBlue offers a House Care Plus monthly and quarterly maintenance program. TruBlue also works with homeowners, realtors and rental property owners who need to get homes move-in ready quickly and keep them maintained as well as business clients.
"We have a great team here in Spokane and we could not have achieved this recognition without the contributions of each team member! They have a real desire and ability to adapt to customers' needs, which could mean scheduling work after hours, on weekends, or arriving on the jobsite with our own portable bathroom, to name a few of our accommodations. That makes doing business with TruBlue convenient and easy, which has attributed to our growth," Steve said.
Steve and Sue launched TruBlue of Greater Spokane with two employees in June of 2019. They now have eight employees and are currently hiring for additional full-time and part-time employees. In addition to being extremely accommodating, Steve attributes their success to the wide range of service TruBlue can offer and their appreciation of their clients.
"We specialize in delivering a variety of household services while giving the customer the opportunity to engage with one single source. People are constantly surprised that one company can offer such a wide variety of needed services. We even work with rental and other commercial businesses as well," Steve said. "We also think it's important to have a heart of humility and to show appreciation for people – our staff and our customers. They in turn contribute the most important keys to our success, as evidenced by our large base of repeat customers. TruBlue of Greater Spokane has managed to provide our employees with a paycheck and safe work environment despite the COVID-19 impact."
TruBlue of Greater Spokane is licensed, bonded and insured. To learn more about TruBlue of Greater Spokane, call 509-530-2453, email SMagyar@trubluehousecare.com or visit https://www.trubluehousecare.com/spokane-valley/.