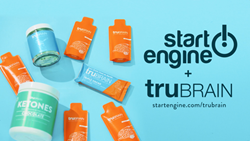 TruBrain delivers patent-pending brain food designed by neuroscientists to enhance memory, focus, and sleep.
SANTA MONICA, Calif. (PRWEB) May 12, 2021
TruBrain, a high-performance cognitive nutrition brand, today announced the launch of its equity crowdfunding campaign on StartEngine. Proceeds from this campaign will be used to bring the company's cognitive enhancement supplements to the masses. TruBrain's previous campaign on the same platform in 2019 was a highly successful one that sold out immediately and raised the maximum amount of $1.07 million. The campaign had a waitlist of interested investors amounting to nearly $200,000.
TruBrain has lifetime sales worth over $14 million, and achieved profitability in 2019. To date, they have already raised $2.7 million from leading VCs, including Sherpa Ventures, 500 Startups and over 1500+ individual investors. The objective of the just launched crowdfunding campaign is to expand into personalized healthcare with the company's patent-pending brain food formulas.
TruBrain is the brainchild of two UCLA neuroscientists and a former Unilever executive dedicated to helping consumers boost mental output by delivering cutting-edge cognitive enhancement supplements. The company has combined high-quality ingredients with its unique formulas to create Brain Food that improves the brain's ability to make new connections, conquer anxiety, and get deep, restorative sleep. TruBrain's range of products includes a line of food, beverage, and nutrition products with premium formulation and novel form factors.
"We have worked to create a product that we believe brings the highest efficacy and provides some of the best absorption, while still delivering a delightful taste. The formulas we have are radically different than either pharmaceuticals or any other products on store shelves. They work with your underlying biology and cognitive metabolism to give you a natural nudge to what you already have inside you," said Chris Thompson, TruBrain CEO.
By entering into the personalized healthcare space, TruBrain hopes to be able to expand its product portfolio to address all the cognitive needs of its customers. Their mission is to utilize its neuroscience-driven process to further develop TruBrain as a leading cognitive healthcare brand and break the $100 million mark.
As per the latest offering from TruBrain, each of its shares has been priced at $0.36 and the minimum investment is $351. All investors will have the opportunity to receive TruBrain product perks along with their investment (comprised of 4 Brain Food Bars, 20 Personalized Drinks, 8 of our new Sleep Drinks and 1 piece of TruBrain merchandise) as well as up to a 50% lifetime discount from TruBrain.
To find out more about this crowd-funded investment opportunity, please visit https://www.startengine.com/trubrain
About TruBrain: TruBrain is the digital clinic for cognitive healthcare to empower best thinking with accessible, safe and powerful consumer products. The company delivers patent-pending brain food designed by neuroscientists to enhance memory, focus, sleep, and more. The leading brand in cognitive performance, TruBrain is currently expanding further into personalized healthcare.
You can learn more about TruBrain's offering at http://www.startengine.com/trubrain
AN OFFERING STATEMENT REGARDING THIS OFFERING HAS BEEN FILED WITH THE SEC. THE SEC HAS QUALIFIED THAT OFFERING STATEMENT, WHICH ONLY MEANS THAT THE COMPANY MAY MAKE SALES OF THE SECURITIES DESCRIBED BY THE OFFERING STATEMENT. IT DOES NOT MEAN THAT THE SEC HAS APPROVED, PASSED UPON THE MERITS OR PASSED UPON THE ACCURACY OR COMPLETENESS OF THE INFORMATION IN THE OFFERING STATEMENT.
You should read the Offering Circular and Risks related to this offering before investing. This Reg A+ offering is made available through StartEngine Primary, LLC, member FINRA/SPIC. This investment is speculative, illiquid, and involves a high degree of risk, including the possible loss of your entire investment.