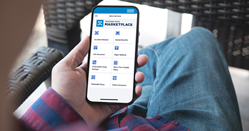 Our mission is to provide products and services that help our community of drivers operate more efficiently and to help make life on the road a little easier for them
PHOENIX (PRWEB) January 18, 2023
Trucker Path, the most comprehensive and most used mobile app for North American truckers, today announced the opening of its new in-app marketplace featuring discounts and special offers on products and services specifically for drivers. The offerings in the Marketplace are available and easily accessible by all members of the Trucker Path Community.
"Our mission is to provide products and services that help our community of drivers operate more efficiently and to help make life on the road a little easier for them," said Chris Oliver, CMO at Trucker Path. "The new Trucker Path Marketplace was developed to provide easy access to discounts from leading providers who offer products that not only help truckers go about their business more efficiently, but also help them with life's essentials and comforts."
For the initial launch, the Trucker Path Marketplace features a set of offerings from trusted partners to coincide with this time of year, including healthcare and tax-related services. That list includes:

"Making the Marketplace available right in the app our members already rely on for navigation, parking availability, finding food and hotels and many other services makes it very easy for them to access the discounts they deserve," added Oliver. "With our partner providers, the Trucker Path Marketplace continues our mission to support truckers and make their lives on the road easier and more efficient."
Additional services and products will continue to be added to the Trucker Path Marketplace in the very near future.
About Trucker Path
Phoenix-based Trucker Path is the provider of a wide range of truck driver-centric mobility products. Its Trucker Path app is currently in use by over 1 million professional truck drivers. Offering best-in-class navigation with truck optimized routing, the Trucker Path app also provides access to vital up-to-date information about truck stops, real-time available parking, fuel prices, weigh station status, and truck scales and wash locations. The company also offers TruckLoads, a digital freight exchange that connects drivers, carriers and brokers; COMMAND™, the industry's first and only Operations & Driver Relationship (ODR) platform that provides small to mid-size fleets with the necessary driver and TMS technologies to successfully run a fleet; and DISPATCH, a full-service dispatch service designed specifically to serve the back-office needs of small carriers and owner-operators. For more information, visit http://www.truckerpath.com.