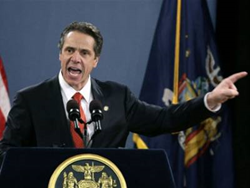 "Where does he want them to go, if he is not supplying enough safe truck parking spots in his state? Trucker Lives Matter too!" --James Lamb, SBTC President
WASHINGTON (PRWEB) February 04, 2019
According to James Lamb, president of the nationwide Small Business in Transportation Coalition ("SBTC"), a 501(c)(6) non-profit trucking industry trade group, New York Governor Andrew Cuomo has declared war on truckers.
On Tuesday, January 29th, 2019, Cuomo issued a travel ban forbidding all tractor trailers to travel on several major interstates as well as the New York State Thruway due to a severe winter storm.
Then, on Thursday, January 31st, 2019, in the aftermath of a traffic accident involving a semi, the Governor upped the ante, threatening to imprison truckers in the future instead of issuing typical traffic fines.
Lamb, whose group operates through the domain http://www.truckers.com, responded to the Governor on Friday, February 1st, 2019 while the ban was still in effect, pointing out the safe truck parking shortage problem in New York saying:
"While the governor of New York obviously meant well with this ban, he did not realize such a ban and restriction of movement places truckers in precarious situations and strands truckers in dangerous places that jeopardize their personal safety. With the onset of electronic logging devices (ELDs), many truckers find themselves having to shut down on exit and entrance ramps to avoid violations of Federal Hours of Service regulations. Many truckers are not aware of their rights to seek safe harbor. A ban on a driver under threat of arrest unreasonably restricts their right to seek safe harbor and interferes with interstate commerce. Meddling with interstate commerce transcends the authority of the Governor of the state of New York or any state. The state has also not met its responsibility under the Federal Jason's Law truck parking statute to ensure drivers have sufficient safe truck parking available within the state in situations where a ban is in effect.
While the SBTC itself encourages truckers to stay off the roads when road conditions are dangerous, overzealous threats of arrest in lieu of fines from any state governor are an overbearing abuse of authority. Lastly, with truckers not able to defend themselves when visiting New York because of New York's anti gun-laws, the Governor has essentially frozen truckers in their tracks making them sitting ducks in high crime areas of the state. With over 600 workers in interstate transportation murdered over the past decade according to the US Dept. of Labor, we therefore call on Congress to pass Michael's Law that would acknowledge truckers' right to carry firearms throughout the United States to protect themselves and restrict states from regulating truckers who enter, pass through, and exit their state in furtherance of Congress' right to regulate interstate commerce under the Commerce Clause of the U.S. Constitution," Lamb said to Cuomo.
"Either the roads are open for all, or they are closed for everyone for safety reasons. The Governor cannot lawfully discriminate against drivers on the basis of the vehicles they drive. That violates truckers' Constitutional Right to Equal Protection of the Law. He cannot have his cake and eat it too," Lamb said today.
Lamb suggests that adequate truck parking is usually judged on the basis that a certain percentage of America's 3.5 million truckers are moving as opposed to stopped at any given time. Shutting all trucks down in a particular area creates an immediate truck parking shortage emergency. New York's anti-idling laws could cause truckers to literally freeze to death in such a mid-winter Governor-ordered shut down scenario, Lamb says.
"These issues are either not on Mr. Cuomo's radar --and should be --or he simply does not care about truckers and that is highly insensitive to America's citizens who drive trucks for a living."
Cuomo has since lifted the ban. However, SBTC is advising truckers who are arrested by New York law enforcement agents in the future in furtherance of Cuomo's threat, should contact the SBTC for assistance at (202) 731-8223.
For more information, visit:
http://www.Truckers.com
http://www.TruckerLivesMatter.com
Follow SBTC on Twitter: @theSBTC
#