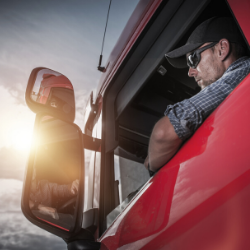 "This legislation is well-meaning and addresses some real issues in today's labor economy. Applying it to the trucking industry, however, would be neither useful nor helpful."
ST. PETERSBURG, Fla. (PRWEB) December 10, 2019
On September 18, Governor Gavin Newsom signed into law California Assembly Bill 5. The new law, which takes effect January 1, limits companies' ability to classify workers as independent contractors rather than employees [1]. On November 12, the California Trucking Association filed suit in federal court, arguing that AB5 will deny California-based truck owner-operators the ability to work as independent self-employed drivers who profit from their own vehicles and set their own schedules [2]. "This legislation is well-meaning," says John Kearney, CEO, Advanced Training Systems LLC, "and it addresses some real issues in today's labor economy." Kearney, whose company is a leading designer and manufacturer of virtual simulators for driver training, among other applications, adds, "Applying it to the trucking industry, however, would be neither useful nor helpful."
Other states, notes Kearney, are also considering measures aimed at worker reclassification. A bill pending in the New Jersey legislature would reclassify virtually all workers in the state as regular employees [3]. A coalition of labor groups is pursuing similar legislation in New York, and California's example could encourage the revival of failed attempts in Washington State and Oregon. New York City adopted a minimum wage for ride-hail driers working for companies like Lyft and Uber, but did not classify them as employees [4].
The new California law specifies an "ABC" test to determine a worker's status. Workers will be classified as employees if they:
(A) Perform tasks under a company's control;
(B) Do something integral to the company's business;
(C) Do not operate an independent business in that trade;
As such, he or she is entitled to the area's prevailing minimum wage, worker's compensation, unemployment insurance, expense reimbursement, paid sick leave and paid family leave. In addition, the employer is required to pay half of the employee's Social Security tax [5].
The trucking industry, Kearney says, is structured in such a way as to make the ABC test a poor fit.. The U.S. has approximately 3.5 million truck drivers [6], the vast majority of whom are local and short-haul drivers already classified as employees. There are also, however, approximately 350,000 independent business people who own and operate their own trucks and whose businesses are based on contracting—usually with trucking companies—to make long-haul, full-truckload runs [7].
As plaintiffs in the AB5 case have pointed out [2], about 70,000 of these people are based in California and have made it clear that they do not want their businesses disrupted. In addition, notes Kearney, the California law, if applied to truck drivers, may be in violation of the Federal Aviation Administration Authorization Act of 1994, which bars states from enacting or enforcing laws affecting the transportation of property by motor carrier [8].
"Trucking," says Kearney, "is essential to the U.S. economy—it's how we move over 70 percent of all goods sold. The industry is currently struggling with a severe shortage of drivers, especially drivers willing and able to make the long-haul runs that keep American commerce functioning. To attract and retain the new drivers we need, the industry is changing rapidly. Issues of employment status and compensation are of course arising as part of these changes, and are being addressed; shotgun legislation like California's AB5 would simply be a distraction from that effort. What trucking needs today are solutions, not more problems."
About Advanced Training Systems LLC:
Advanced Training Systems (ATS) is a technology and engineering firm that has revolutionized the design and manufacture of high-tech simulator systems to improve training for operators of all types of motor-powered vehicles. ATS, the holder of multiple patents in its field, is dedicated to providing cutting-edge adaptive training at an affordable cost to all involved in the transportation industry, resulting in more qualified drivers/operators and safer streets. For more information, visit http://www.atstrainingsystems.com
1. Myers, John, Bhuiyan, Johana, and Roosevelt, Margot, "Newson signs bill rewriting California employment law, limiting use of independent contractors," Los Angeles Times, September 18, 2019.
2. Bollag, Sophia, "California's new gig economy law challenged in court by truck drivers," Sacramento Bee, November 12, 2019.
3. Britschgi, Christian, "New Jersey Takes a Swipe at the Gig Economy With New Independent Contractor Bill," Reason, November 21, 2019.
4. Conger, Kate, and Scheiber, Noam, "California Bill Makes App-Based Companies Treat Workers as Employees," New York Times, September 11, 2019.
5. Said, Carolyn, "AB5 gig work bill: All your questions answered," San Francisco Chronicle, September 16, 2019.
6. "Truck Drivers in the USA," alltrucking.com, 2019.
7. "Owner-Operator and Professional Employee Driver Facts," Owner-Operator Independent Drivers Association, 2019.
8. Fesenden, James C., and Drapalski, Anet, "Perspective: What AB 5 Means dfor California Trucking," Transport Topics, November 4, 2019.
# # #