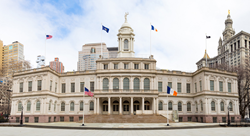 History will tell that it was the winter of 2020...New York City officials went absolutely and completely insane. --James Lamb Truckers.com
WASHINGTON (PRWEB) March 26, 2020
James Lamb, Executive Director of the Small Business in Transportation Coalition (SBTC) sent multiple letters this week via email to New York City Mayor Bill DeBlasio and the New York City Council complaining about what Lamb believes is the city's unwelcoming behavior toward interstate truck drivers who are rushing into New York City to deliver much-needed food and medical supplies to New York City residents in the midst of the Coronavirus pandemic.
"History will tell that it was the winter of 2020... crime statistics soared 22.5% because of the elimination of bail in New York, New York City's Mayor scapegoated truckers for the city's infrastructure problems on the BQE, levied $7,000 Draconian fines against truckers, and said trucks were not welcome on New York City's streets... he then launched a marketing effort --enlisting rock star Billy Idol --to recruit vigilante environmental zealots to crack down on idling necessary to keep truckers and their pets who live in their trucks warm... then the Coronavirus struck the world and New York became ground zero for disaster in America once again. And while most people ran and hid, including fleeing New York City in droves after a stay at home quarantine was ordered by Governor Cuomo, America's truck drivers drove into the storm to keep the supply chain going and rescue New York City residents. The thanks they got? Despite New York City traffic enforcement employees pleas to be allowed to stand down, New York City kept the pressure up to issue traffic tickets to truckers who were essentially the only vehicles on the streets in the middle of a national emergency. And then, to add insult to injury, as truck stops around America closed including those throughout the entire state of Pennsylvania and truck drivers could not find safe places to eat... shower, use rest rooms, and park, and while the President of the United States applauded children like 13 year old Logan Miller who went out on the road using their allowances to help feed truckers to keep the deliveries coming and police officers around the country drove truckers through fast food drive throughs to help get them food, New York City police staged unnecessary insensitive enforcement actions on truckers in Brooklyn at the worst possible time... ticketed and towed their trucks, which were carrying critical supplies into the city from outside the state... as city and state officials cried that the Federal government was not helping them get masks and gloves and coronavirus tests and ventilators... and they woke truckers up preventing them from getting the much needed rest promulgated by Federal regulations to prevent driver fatigue, thus jeopardizing public health and safety. So, in other words... New York City officials went absolutely and completely insane," Lamb said today.
Lamb also announced that SBTC believes New York City was failing to provide a safe environment for truckers as they rolled into the once bustling and now desolate streets. In an email to the Mayor and New York City Council members yesterday, Lamb pointed to how in addition to a rise in crime stats, the city was standing down on misdemeanor arrests, releasing inmates from jails, scores of police officers were infected with Coronavirus, and thousands more were calling in sick. He also stated many of his 15,000-member trade group's members were calling for an all-out boycott of the city due a pattern of what SBTC feels is inappropriate actions by the city:
"We hope someone will do something about this abuse of truckers like command your officers to stand down on truck enforcement and ticketing and tell us so we can pass the information on to America's 3.5 million truckers. Otherwise, here is the phone number for the New York National Guard: (518) 786-4869. You're going to need it."
Lamb has also taken the matter to the governor's office and the Secretary of Transportation. In a letter to the Honorable Elaine Chao, which Lamb distributed to every member of Congress this week, Lamb suggested that a Federal Preemption Order was in order to nullify state and local gun laws that prevent truckers from defending themselves when attacked. Lamb pointed to unusually high rates of truckers being murdered on the job according to US Department of Labor stats and said cities like New York could no longer ensure truckers' personal safety thus the right to carrying firearms from state-to-state was now essential and was a 'matter of life and death.'
"Truckers have one of the most dangerous jobs in America. We are now at a 30-year high on large truck occupant fatalities according to USDOT. If the highways don't get you, Driver, some punk in the Bronx will," Lamb said.
Secretary Chao held an unnoticed spontaneous conference call yesterday with Federal Motor Carrier Safety Administration officials and select truckers. Lamb says SBTC dba Truckers.com was not invited to participate in the call.
"Had we known about the call, we would have jumped on it and verbally expressed all of our concerns directly to the Secretary. Hiding from us and ignoring this problem is not going to make it go away, " Lamb said. We have hundreds of independent truckers trying to connect with the President's Coronavirus Task Force who are fit, willing, and able to help with the relief efforts. But they are refusing to engage us and address this poor treatment of truckers. That needs to stop right now, Lamb said.