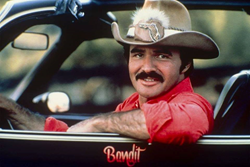 "Mercy Sakes Alive! Looks like we got us a convoy," --Truckers.com Spokesman James Lamb
TEXARKANA, Texas (PRWEB) September 19, 2018
Truckers.com President & Spokesman James Lamb announced today that his trucking industry trade group, formally known as the Small Business in Transportation Coalition (SBTC), will be holding a special memorial tribute and procession for the late actor Burt Reynolds during the September 29-30 weekend at the Texarkana Convention Center in Texarkana, Texas.
"Mercy Sakes Alive! Looks like we got us a convoy," Lamb said, quoting the classic C.W. McCall trucker song by that name.
Reynolds was popular among truckers for over four decades and best known for his role as "the Bandit" in the "Smokey and the Bandit" trilogy. In the original American action comedy film "Smokey and the Bandit," the second highest-grossing domestic film of 1977, Wealthy Texan Big Enos Burdette and his son Little Enos seek a truck driver willing to bootleg Coors beer to Georgia for their refreshment. Truck drivers who had been hired previously had been caught and arrested by "Smokey" (CB slang for highway patrol officers, referring to the Smokey Bear–type hats worn in some states) who is played by Jackie Gleason. The Burdettes find Reynolds' character, the legendary trucker Bo "Bandit" Darville, competing in a truck rodeo at Lakewood Fairgrounds in Atlanta. They offer the Bandit $80,000 to haul 400 cases of Coors beer from Texarkana, Texas back to Atlanta in 28 hours. Thus, Trucker.com's choice to hold the memorial event in Texarkana and duplicate the Bandit's run with a present-day 10 hour trucker convoy to Atlanta along I-20, in accordance with Federal hours of service regulations which allow truckers to drive 11 hours after 10 consecutive off duty hours.
Lamb indicated his group decided to organize the event after 95% of truckers polled said they wanted the event to happen out of admiration for Reynolds, who passed away on September 6th, 2018. Lamb said he consulted with the Burt Reynolds Institute for Film & Theatre in Florida and Reynolds' manager Erik Kritzer of LINK Entertainment while putting the event together. "This is fantastic. Really happy you guys are doing this," Kritzer wrote to Lamb in an email on September 15, 2018.
In the announcement today, Lamb said he expects thousands of truckers from across America to participate in the historic event over the course of the weekend to pay tribute to the legendary actor. Among the activities planned is the headliner act: a Saturday evening concert at 7pm, free for CDL holders and their families, by the award-winning, trucker-oriented Canadian Country Band "The Road Hammers". In addition to a comedian act, the group plans to show three of Reynolds' movies throughout the day on Saturday, which will be selected by truckers through an online social media poll. Truckers.com has received word that the City of Texarkana (TX) will be issuing a special proclamation in Honor of Burt Reynolds. The program ends on Sunday at Noon with the interstate trucker procession from Texarkana to Atlanta, Georgia.
Lamb has submitted a sponsorship application to Coors requesting their sponsorship of the event. "it's a natural fit, given Reynolds' character's mission in the movie," Lamb said. "We've got a long way to go and a short time to get there," he added, referring to the movie's theme song--Jerry Reed's "Eastbound and Down". "We're hoping Coors will step up and help us honor Burt."
Additional companies wishing to co-sponsor the event should contact Mr. Lamb immediately via James(at)Truckers(dot)com or by calling (800) 215-6704. For more information about the event, visit the event post or the group's website http://truckers.com.