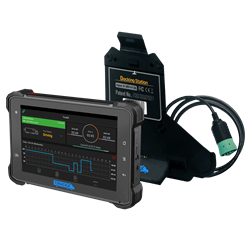 The wired ELD setup removes technical and communication hassles associated with bluetooth ELD solutions.
MOUNTAIN VIEW, Calif. (PRWEB) December 04, 2020
Based on market demand, ELD market leader TruckX has introduced a ruggedized wired ELD setup as an extension to its already popular bluetooth ELD product line. The company witnesses excellent reception for its bluetooth ELD solution, seeing deployment across tens of thousands of trucks in North America.
With the launch of the ruggedized wired ELD setup, TruckX becomes the first major ELD provider in the market to offer both bluetooth and wired ELD options to its user base. The setup comes with the ruggedized ELD tablet, docking station, mount, and a dual-network SIM card. The ELD tablet has an IP66 rating, making it dust-proof and waterproof. It also has a five-foot drop resistance, while clearing anti-vibration and shock standards set by the U.S. military.
"TruckX already has a great bluetooth ELD offering that is very easy to install and works great for the drivers and trucking companies. However, trucking is not an easy job, and there are many variables on the road. In such a work environment, most of the regular tablets do not last long. Ruggedized form factor helps, especially in places where there are dust, heat and extreme cold — instances when trucks are parked overnight or days in an open environment," said Tapan Chaudhari, the founder and CEO of TruckX.
The ruggedized ELD device can be mounted over the cab in minutes with a single wire and four screws. The setup can withstand high temperatures inside the parking lot and is resistant to daily wear and tear. A solid docking station is mounted on the dashboard, charging the tablet at all times. The setup comes with a dual-network SIM card and is connected to the cloud.
TruckX's advent into wired ELD design is a result of fleets asking for ELD setups that do not require drivers to call in for constant technical support. TruckX wired ELDs provide a dependable in-cab experience for drivers, recreating the same user interface of the incumbent bluetooth ELD solution. The setup is hardwired to the truck's engine, providing readings that are reliable 24/7.
"This is a great solution as it saves our drivers a lot of trouble with figuring out complicated functionalities that other market options come with," said Taranjit, the owner of LHD Transport. "Being ruggedized while maintaining a small form factor makes it convenient to remain fixed in the cab at all times."
About TruckX:
Started in 2016, TruckX is focused on using the power of technology to solve the problems of the trucking industry, the backbone of the nation's economy. TruckX helps truckers and trucking companies become more efficient and stay safe while on the road or otherwise. TruckX is a leader in the Electronic Logging Devices (ELD) market, helping tens of thousands of truckers comply with FMCSA regulations painlessly. TruckX is now the only major ELD provider to have both Bluetooth and Wired ELD setup.
For more information, write to contact@truckx.com