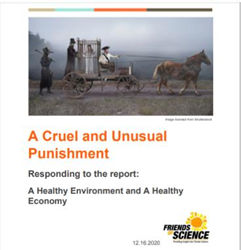 The Trudeau climate plan includes a 566% increase for a controversial carbon tax that's before the Supreme Court
CALGARY, Alberta (PRWEB) December 17, 2020
The Trudeau government's climate plan, "A Healthy Environment and A Healthy Economy," released on the fifth anniversary of the Paris Agreement, will inflict cruel and unusual punishment on Canadians, says Friends of Science Society in a new report. Friends of Science says the Trudeau plan lacks due diligence and attempts to bribe Canadians with claims that a carbon tax rebate (dividend) will return more money than is paid out by consumers. As reported by Brian Lilley in the Toronto Sun of Dec. 15, 2020, the plan includes a "566% increase for a controversial tax that's before the Supreme Court." The same plan pushes the goal of NetZero 2050, which energy economist Robert Lyman has ballparked in the trillions of dollars.
According to Lyman's report "Ballparking the Cost of Electrification" (decarbonization) would be "... somewhere between U.S. $2.7 trillion (Cdn $3.6 trillion) and U.S. $4.35 trillion (Cdn $5.9 trillion)."
While a carbon tax rebate might return a few thousand dollars a year to the luckiest recipients (not everyone), Lyman notes that decarbonization's impact on the consumer pocketbook would be untenable. "A cost of Cdn $3.6 trillion is equal to $95,000 for every person in Canada. A foregone income of Cdn $9.4 trillion is equal to almost Cdn $250,000 per person, or one million dollars for a family of four."
Seamus O'Regan, Minister of Natural Resources, boasted on twitter that the Trudeau climate plan to plant 2 billion trees would reduce Canada's emissions by 12 Mt. As Robert Lyman reported in "Futile Folly: Canada's Climate Goals in the Global Context", "China emits in one month (819 Mt/month) about what Canada emits in one and a half years. The average growth in emissions in China over the past decade is 212 Mt per year." Canada's expensive climate virtue signalling is literally a drop in the bucket of global emissions.
While Trudeau claimed the world is moving toward clean tech and that huge financial opportunities await for a resilient COVID recovery, Robert Lyman's summary of Natural Resources Energy Fact Book shows that Canada's oil, gas and oil sands sectors are far more in demand; clean tech is a small sector with low returns.
Likewise, claims that clean energy will create thousands of jobs or take over the energy generation market is not supported by the evidence. Lyman's recent report "Renewable Energy Outlook to 2025 - the Inconvenient Facts," shows that oil, natural gas and coal will continue to power the world in the order of 84%. "In 2019, wind and solar energy used for power generation constitutes only 2% of global primary energy consumption."
Friends of Science Society says the Trudeau report lacks rigor on the climate science side as well. Climate policy analyst Roger Pielke, Jr. has recently published a series of articles and peer-reviewed papers on how climate science is relying on outdated parameters. Pielke, Jr. says much lower than projected carbon emissions have occurred and "It is even conceivable, if not likely, that in 2019 the world has passed "peak carbon dioxide emissions," meaning there is no climate emergency. Robert J. Muir, P. Eng. provides scientific data that disputes Trudeau's claims of extreme weather events in the Financial Post, Dec 16, 2020.
This also means the onerous carbon taxes, clean fuel standard and climate accountability legislation, proposed by the Trudeau government,are not justified in any way, all of which are shrouded in "Dark Clouds of Conflicts of Interest," according to Friends of Science.
Friends of Science Society invites the public to join in Part Two of their 17th Annual Event - will be online - with Dr. Roy Spencer on January 19, 2021 at 7PM for "The Most Important Reasons Why There is No Climate Emergency." The recorded presentation will be followed by a live Q&A. Tickets available at https://fossevents.ca/
About
Friends of Science Society is an independent group of earth, atmospheric and solar scientists, engineers, and citizens that is celebrating its 18th year of offering climate science insights. After a thorough review of a broad spectrum of literature on climate change, Friends of Science Society has concluded that the sun is the main driver of climate change, not carbon dioxide (CO2).
Friends of Science Society
P.O. Box 23167, Mission P.O.
Calgary, Alberta
Canada T2S 3B1
Toll-free Telephone: 1-888-789-9597
Web: friendsofscience.org
E-mail: contact(at)friendsofscience(dot)org
Web: climatechange101.ca