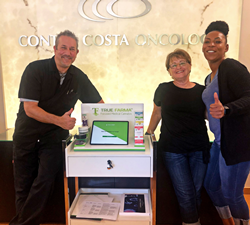 "By bringing the pharmacy to oncology patients, True Farma is doing its part to provide some relief for the unrelenting side effects of cancer treatment," says Tyler Chernack, co- founder of True Farma.
PASO ROBLES, Calif. (PRWEB) October 09, 2019
True Farma is a medical cannabis company in Paso Robles, CA whose mission is to provide access and education to customers, patients, and advocates to facilitate focused self-care.
"The current state of the cannabis market leaves the best medicine makers without the ability to get their products to the patients who truly use it as medicine," says Tyler Chernack, the company co- founder. "We built True Farma to allow access to the industry's best-in-breed medically-focused cannabis products, delivered directly to the patients home; bypassing the discomfort of the traditional dispensary model."
Cannabis, as medicine, needs to be a part of the treatment plan for millions of Americans as a complement to traditional pharmaceuticals," says Elisabeth Mack, RN, MBA who is Vice President of Clinical Operations for True Farma. "People who want and need this option also need to know they have the highest quality, tested, safe, and reliable medicines. They also require guidance, and basic direction because healthcare professionals are not yet answering questions patients have about how to use cannabis as medicine."
That's why True Farma created the Advocate Program – to help bridge the gap between traditional and cannabis medicine. Advocates are given comprehensive training about the history and science behind this plant, the conditions it best aids, and the products developed to find relief.
Cannabis care is also self-care. Botanical medicines are individualized, so it is empowering for people to learn how to take care of themselves and their families.
"Self-care is healthcare," says Chernack, who's own father went through a battle with a form of Leukemia and used medical cannabis to help alleviate some of the side effects of the intense treatment. "We have built systems to educate and inform patients on what they need to know to be safe and successful."
To that end, the company has just launched an innovative new product called the True Farmacy. With True Farmacy, patients can browse carefully curated medical-cannabis products via kiosks in cancer treatment centers like Contra Costa Oncology, and order the medicine to be delivered to their home.
"We are bringing the pharmacy to the patients," says Chernack. "Patients can order these supplements right from their doctor's office, via a mobile ordering system, i.e. iPad; with the guidance and information on how to use it built into the kiosk."
"Our kiosk partners have been trained to provide basic front-line guidance to their patients," says Mack.
Cannabis helps relieve symptoms for patients in three major issues caused by cancer treatment: pain, nausea, and loss of appetite.

People experiencing cancer treatment often feel pain from lesions, surgery, radiation, and chemotherapy. A study published in the Journal of Pain and Symptom Management cited the effectiveness of cannabis, "This study shows that a THC: CBD extract of cannabis is efficacious for relief of pain in patients with advanced cancer pain not fully relieved by strong opioids."
Patients will try everything possible to ease the unrelenting nausea that is a frequent side effect of chemotherapy. Most people describe themselves as feeling nauseous 24/7.
Cannabinoids are natural anti-emetics, and scientific research supports the idea that cannabis can alleviate nausea caused by chemotherapy. According to a piece entitled, "Cancer Patients Get Little Guidance from Doctors on Using Medical Marijuana" on WBUR, Boston's NPR Station, patients who find cannabis may have better outcomes.
Also, the results of a study done by the American Cancer Society shows that patients felt that smoking cannabis helped ease episodes of vomiting and nausea brought on by chemotherapy.
Kate Murphy, a 49-year-old mother with breast cancer, was featured in the WBUR piece. She lost 15 pounds in just two months. Then she remembered what a fellow cancer patient told her before her first round of chemo: "Make sure that you get some medical marijuana."
"It made me feel like I had an appetite for the first time in probably six months," she said. "Instead of lying around thinking about how sick I felt all the time – which was not my personality, and was very upsetting to my whole family – I was up and cooking, which was not anything I had done since I hadn't felt well."
With the innovative initiative, True Farmacy, cancer patients can receive care in a user-friendly manner.
"By bringing the pharmacy to oncology patients, True Farma is doing its part to provide some relief for the unrelenting side effects of cancer treatment," says Chernack.