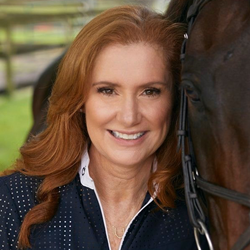 At True Florida Real Estate, we provide elite, customized service to a sophisticated clientele
MIAMI (PRWEB) November 16, 2021
True Florida Real Estate & Horse and Home Estates Equestrian Sports Division today announced its partnership with Side, the only real estate technology company that exclusively partners with high-performing agents, teams, and independent brokerages to transform them into market-leading boutique brands and businesses. The alliance will ensure that True Florida Real Estate, a firm focused on providing bespoke service to the South Florida luxury market, is powered by the most advanced platform in the industry.
Cinthia Ané McGreevy, a longtime resident of South Florida and a celebrated industry leader, leads True Florida Real Estate. In 2019, 2020, and 2021, Ané McGreevy was named one of America's Top 100 Real Estate Agents, placing her in the top 1% of real estate professionals in the U.S. She has also been named one of the 100 Most Influential Real Estate Agents by the Wall Street Journal & RealTrends. Cinthia Ané McGreevy has two decades of experience, and her extensive qualifications include being a Certified Residential Specialist (CRS), Certified Luxury Home Marketing Specialist (CLHMS), Certified Investor Agent Specialist (CIAS), and Certified Distressed Property Expert (CDPE).
True Florida Real Estate serves buyers, sellers, and investors in South Florida's luxury market. The firm specializes in coastal and equestrian properties, as well as finding or marketing single-family homes, exclusive estates, and chic city condos. True Florida Real Estate's clients can expect true concierge service that goes far beyond normal expectations. Its agents help sellers with staging, remodeling, and creating curb appeal. They also connect buyers with specialized sources for yachts, airplane charters, and horses.
Partnering with Side will ensure True Florida Real Estate remains on the cutting edge of the evolving real estate market while continuing to deliver premium services to its clients. Side works behind the scenes, supporting True Florida Real Estate with a one-of-a-kind brokerage platform that includes proprietary technology, transaction management, branding and marketing services, public relations, legal support, lead generation, vendor management, infrastructure solutions, and more. Additionally, True Florida Real Estate will join an exclusive group of Side partners, tapping into an expansive network from coast to coast.
"At True Florida Real Estate, we provide elite, customized service to a sophisticated clientele," said Cinthia Ané McGreevy. "Our agents are experts at helping clients fully realize their South Florida lifestyle dreams, and Side provides the premier marketing, technology, and support that will help us meet our goal of transcending client expectations."
Side is led by experienced industry professionals and world-class engineers who develop technology designed to improve agent productivity and enhance the client experience. Based on its belief that homeownership is a fundamental human right, Side is on a mission to improve the public good by providing top-performing real estate agents, teams, and indie brokerages with the best system, support, service, experience, and results.
About True Florida Real Estate
True Florida Real Estate is a boutique real estate company built on a foundation of honesty and excellence. Its dynamic, experienced team is composed of well-connected South Florida professionals who have extensive networks and deliver the highest level of care. The firm, headquartered in Miami, specializes in equestrian estates and luxury properties throughout South Florida. For more information, visit truefloridarealestate.com.
About Side
Side transforms high-performing agents, teams, and independent brokerages into successful businesses and boutique brands that are 100% agent-owned. Side exclusively partners with the best agents, empowering them with proprietary technology and a premier support team so they can be more productive, grow their business, and focus on serving their clients. Side is headquartered in San Francisco. For more information, visit http://www.sideinc.com.