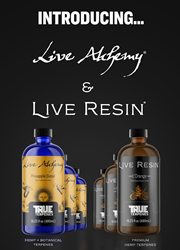 "These product lines are the culmination of years of research and hard work. From day one for True Terpenes, we have been striving for this moment," said Chris Campagna, True Terpenes founder. "For the first time, True Live Resin Terpenes are available for customers in all markets worldwide."
PORTLAND, Ore. (PRWEB) June 22, 2021
True Terpenes, the leading platform for terpene innovation, has launched two new product lines: Live Alchemy and Live Resin. These new product lines feature live resin, hemp-derived terpenes extracted from premium flower.
The flower used to create these terpene blends was selectively chosen for their unique flavor and aroma profiles. The hemp plants were cultivated and extracted specifically for the preservation of terpenes and not as a by-product as traditionally seen in hemp grown for CBD. Unlike cannabis-derived terpenes, by extracting the terpenes from Farm Bill Compliant hemp, these products are legal to ship in all 50 states and worldwide. True Terpenes is currently the only terpene supplier offering hemp-derived terpenes that can meet the strict GMP/ISO manufacturing requirements by states like New York.
"These product lines are the culmination of years of research and hard work. From day one of founding True Terpenes, we have been striving for this moment in time", said Chris Campagna, True Terpenes CEO & Founder. "For the first time ever, True Live Resin Terpenes are now available for customers in all markets worldwide."
Learn more below:
The Live Resin product delivers a premium experience. These live resin terpenes will open new opportunities for manufacturers looking to capitalize on the best terpenes available.

Manufactured in a GMP/ISO facility
Legal Worldwide (2018 Farm Bill Compliant)
Consistent supply and taste
Flower grown & extracted for terpenes
Live Alchemy combines the best hemp terpenes and botanical terpenes to provide an authentic cannabis flavor experience for everyone.

Signature flavor notes found in cannabis
Consistent quality
Competitive pricing
About True Terpenes
True Terpenes, a fully owned subsidiary of True Companies, is the industry-leading producer of effects-based, GMP/ISO/FSSC-certified terpenes and terpenoids blends. Using ultra-refined botanical terpenes and other aromatic compounds, the custom terpene blends are used for beverage, cannabis, cosmetic, food, industrial and pharmaceutical products. The company uses advanced scientific analysis to identify terpenes and other compounds in the cannabis plant for recreation by utilizing other botanicals and hemp-derived ingredients. This allows companies in various industries looking to leverage cannabis flavors and effects with a scalable, standardized, and worldwide legal solution.
Disclaimer
Any forward-looking statements included in this document are made as of the date of this document and Corporation disclaims any intention or obligation to update or revise any forward-looking statements, whether as a result of new information, future events or otherwise. Although management of the Corporation believes that the expectations represented in such forward-looking statements are reasonable, there can be no assurance that such expectations will prove to be correct.