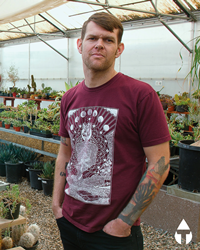 "...We recognize the FDA has concerns about cannabinoid extractions. The beauty with steam distillation is that it does not extract the heavier cannabinoids, but can extract terpenes from hemp for use in food, drink or industrial uses."
SILVER SPRING, Md. (PRWEB) May 28, 2019
David Heldreth, Chief Science Officer for True Terpenes, will represent the expanding hemp and terpene markets at the Food and Drug Administration hearing on hemp May 31, 2019.
Terpenes are the compounds responsible for the scent and taste of plants such as lavender (linalool), rosemary (alpha-pinene) and hops (myrcene) and even cannabis. True Terpenes is a Portland, Oregon based company focused on utilizing botanically-derived terpenes to replicate the aroma, flavor and effects of cannabis. The lack of any actual cannabis allows their products to be food grade and utilized in food, drink and related products. This is because currently even hemp-derived terpenes are not technically allowed in food products.
The passage of the 2018 Farm Bill legalized hemp production on the federal level and removed the plant and its derivatives from the controlled substances act. The farm bill also created a lot of unanswered questions, especially those related to human consumption of hemp products. The bill legalized cultivation, processing and possession of hemp, but left the FDA to regulate it as it does other food items.
Under the Food, Drug and Cosmetic Act (FD&C) and the 1992 Supplement Act it is against the law for a food or supplement to contain an item that was approved as a drug before it was available as a food item. Due to GW Pharmaceuticals' approval for Epidiolex the FDA is currently blocking the use of cannabidiol (CBD) in food and related products.
The FDA has recently moved to exercise its authority to research a new regulatory framework for hemp products containing CBD, terpenes and other ingredients. The FDA says the goal of the public hearing is to obtain scientific data and information about the safety, manufacturing, product quality, marketing, labeling, and sale of products containing cannabis or cannabis-derived compounds.
Heldreth said True Terpenes is attending the hearing in hopes of educating the FDA on how hemp is processed for terpenes, terpenes safety as food items and manufacturing standards for public safety.
"Steam distillation is a common technique that has been used for botanical extraction for thousands of years," Heldreth said. "We recognize the FDA has concerns about cannabinoid extractions. The beauty with steam distillation is that it does not extract the heavier cannabinoids, but can extract terpenes from hemp for use in food, drink or industrial uses."
Heldreth pointed to the True Grade system his company has devised as a model standard for the industry to adopt for consumer safety. While food grade is a designation regulated by the FDA and related laws, True Grade is representational of the toughest standards for cannabis inhalation products in the United States. Currently, California, Colorado, Oregon and Washington each have independent regulations for the testing of pesticides, solvents, heavy metals and other contaminants. True Grade takes the strictest regulations from each state as the baseline to ensure True Terpenes' products are safe and compliant.
The FDA is currently accepting written and digital comments for those who are unable to attend. Cannabis and hemp industry representatives are encouraged to contact True Terpenes for more information.