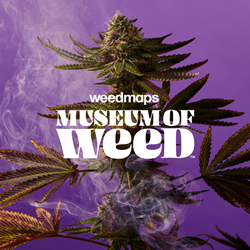 "Cannabis education is still in its infancy. Most people have no idea why individual strains do different things," said Benjamin Disinger, True Terpenes Marketing Manager. "Terpenes are the future of personalized cannabis. We're proud to partner with Weedmaps to bring education to the forefront."
HOLLYWOOD, Calif. (PRWEB) August 02, 2019
True Terpenes and Weedmaps are teaming up to bring the 30,000-square-foot Museum of Weed to life in Hollywood.
Cannabis legalization may be spreading throughout the United States, but most Americans are unaware that the plant has a history thousands of years old. Cannabis and hemp were widely used for more than a hundred years of US history prior to the start of the ill-fated drug war.
To honor this past, including those that faced persecution and imprisonment due to prohibition, Weedmaps is opening the Museum of Weed in Hollywood. The museum will have its grand opening on Saturday, Aug. 3, 2019, and will be located at the intersection of Melrose Avenue and Cahuenga Boulevard at 720 N Cahuenga Blvd, Los Angeles, CA 90083.
"Today in the United States, someone is arrested for non-violent possession of cannabis every 48 seconds," said Chris Beals, CEO of Weedmaps. "That's over 650,000 arrests annually, consuming hundreds of millions of dollars and resources from law enforcement efforts. There has been too little discussion of the role that the prohibition played in a number of historical and ongoing social injustices."
The 30,000-square-foot Weedmaps Museum of Weed is meticulously curated with interactive exhibits, art installations, historical artifacts and more, aiming to guide visitors through the dark ages of cannabis to the launch of state medical programs, recreational expansion, and onwards to the future of cannabis.
"Cannabis education is still in its infancy. Most people have no idea why individual strains do different things," said Benjamin Disinger, True Terpenes Marketing Manager. "Terpenes are the future of personalized cannabis. We're proud to partner with Weedmaps to bring education to the forefront."
True Terpenes is the industry leader of precise terpene blends that accurately recreate the aroma and effect of the original plant. Terpenes are the compounds responsible for the scent, effect, and taste of plants such as lavender (linalool), rosemary (alpha-pinene), hops (myrcene), and even cannabis.
"Think of cannabinoids (THC and CBD) as the gas pedal and terpenes as the steering wheel. Cannabinoids get the engine running but terpenes determine where you're going to go," says Disinger.
True Terpenes is providing scientific support and, of course, terpenes for the interactive "Plant Lab" - an exhibit that explores everything from cannabinoids to terpenes and the latest technology and breakthrough medical research that can help shape the future of the plant and its role in society.
You won't want to wait too long to visit the Museum of Weed as it's a temporary installation ending on September 29.
For more information about the museum contact: Info(at)themuseumofweed.com.
For more information about terpenes or True Terpenes please contact: info(at)trueterpenes.com.
Museum Details
Admission (18 & older)
General Admission (18+): $35
Student (18+): $32
Military & First Responder (18+): $29
VIP (21+): $200
Group discount available for 15 or more people.
Hours of Operation
Monday – Tuesday: Closed
Wednesday – Thursday: 2pm – 8:30pm
Friday: 12pm – Midnight
Saturday: 11am – 7pm | VIP Only 8pm – midnight
Sunday: 12pm – 7pm