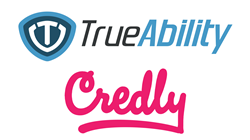 "TrueAbility's new digital credential offering gives its certification partners access to a secure, cost-effective way to verify skills and recognize those who have demonstrated the abilities most needed in today's work environment." Jonathan Finkelstein, CEO of Credly
SAN ANTONIO (PRWEB) October 01, 2019
TrueAbility, a performance-based certification platform for a digital workforce, will now offer its customers digital credentials through New York-based Credly, a leading end-to-end solution for creating, issuing and managing digital credentials. TrueAbility and Credly have complementary platform offerings that act as a value add for current and prospective customers.
"We are enthusiastic to partner with Credly which is at the forefront of digital credentialing," said Frederick Mendler, CEO, TrueAbility. "It's clear that organizations of all industries are looking to evolve skill verification programs to attract talent and retain a skilled digital workforce, and with Credly we're giving our customers the power to do so with a dedicated 'all-in-one' opportunity. This partnership is a testament that showcasing skill abilities and achievements are crucial, and of great value, in today's competitive digital world."
By leveraging both technologies, organizations gain the ability to ensure individuals accurately demonstrate their competencies and skills in a real-world environment and receive digital badges as proof and recognition of true talent and ability.
TrueAbility customers delivering performance-based certification programs will have the option to distribute digital badges upon test completion, verifying their achievements across networks and employers. Credential holders are able to differentiate their talents from others in their industry, while organizations are able to quickly identify credentials that meet their talent needs.
"The skills required to thrive in the modern workforce are evolving rapidly in response to shifts in technology and employer needs," said Jonathan Finkelstein, CEO of Credly. "TrueAbility's new digital credential offering gives its certification partners access to a secure, cost-effective way to verify skills and recognize those who have demonstrated the abilities most needed in today's work environment."
Visit TrueAbility.com to learn more about performance-based assessment offerings. Like TrueAbilityInc on Facebook and follow on Twitter @TrueAbility.
About Credly
Credly is helping the world speak a common language about people's knowledge, skills, and abilities. Thousands of employers, training organizations, associations, certification programs, and workforce development initiatives use Credly to help individuals translate their learning experiences into professional opportunities using trusted, portable, digital credentials. Credly empowers organizations to attract, engage, develop, and retain talent with enterprise-class tools that generate data-driven insights to address skills gaps and highlight opportunities through an unmatched global network of credential issuers. http://www.Credly.com
About TrueAbility
TrueAbility is an advanced platform for delivering performance-based certification to today's digital workforce. TrueAbility's scalable and secure platform delivers a remarkable certification experience and the truest measure of skill, enabling technology companies of all sizes to ensure that users, channel partners, and employees are empowered on their solutions. Founded in 2012, TrueAbility is privately held and headquartered in San Antonio, Texas. For more information, please visit http://www.trueability.com.
TrueAbility® is a registered trademark of TrueAbility, Inc. All rights reserved.