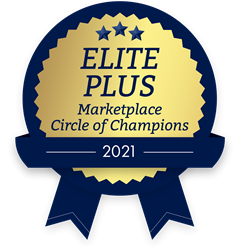 DALLAS (PRWEB) January 27, 2021
TrueCoverage, LLC has received nationwide recognition within the 2021 Marketplace Circle of Champions program—becoming an Elite Plus member—as one of the highest performing companies in the Health Insurance Marketplace.
This exciting designation from the Centers for Medicare & Medicaid Services (CMS) highlights TrueCoverage' s success in actively enrolling consumers during this Open Enrollment Period.
Each year, the Marketplace Circle of Champions program recognizes the hard work of agents and brokers who help Americans access and manage their health coverage. For those who excel in serving their clients, the Marketplace Circle of Champions reserves its top designation as an Elite Plus member.
"Consumers depend on the expertise of agents and brokers in their community when they need help enrolling in qualified health plan coverage," said Randy Pate, Director of the Center for Consumer Information & Insurance Oversight within CMS, which oversees the Marketplace. "We thank TrueCoverage, LLC for its important work and incredible service they provide to so many consumers during Open Enrollment and beyond."
Eligible consumers can enroll in Marketplace coverage during this year's Open Enrollment Period, which runs Nov. 1–Dec. 15, 2020. Consumers who have questions about their coverage or who would like help enrolling can contact TrueCoverage, LLC at 888-505-1815.
About TrueCoverage, LLC: TrueCoverage, LLC is an insurance marketplace delivering affordable health insurance from over 600 top insurance company partners.
Their revolutionary online automation technology instantly pinpoints the best-value insurance plans with no time-consuming calls with agents. For those preferring a full-service experience, TrueCoverage extends the SAME technology through their Agents so that ANYONE can take advantage of their low-rates and fast-service with a toll-free call.
Another advantage of the TrueCoverage technology is that it ensures your receipt of all cost-savings reductions by applying every premium tax credit and health insurance subsidy available to your policy quote. The system also streamlines and discounts Life insurance, Dental, Vision, all Medicare Advantage and supplement options, Cancer, and Disability insurance enrollments.
TrueCoverage is your One-Stop Insurance Shop with over 50,000 affordable plans from the most trusted names in insurance.
About the Marketplace Circle of Champions: Each year, the Marketplace Circle of Champions program recognizes thousands of agents and brokers across America—highlighting their hard work, expertise, and service. Whether they're helping individuals complete an application, select a plan, or manage coverage throughout the year, agents and brokers play a critical role in the success of the Health Insurance Marketplace.
To commemorate the hard work and commitment of agents and brokers, CMS created the Marketplace Circle of Champions program which provides special recognition to agents and brokers who have actively enrolled 20 or more consumers to demonstrate their expertise and experience in helping consumers find health coverage.