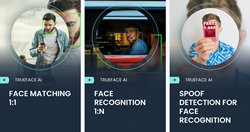 "Our partnership with Trueface signals a breakthrough in computer vision applications," said Norm Litterini, Head of Partnerships at Modzy.
LOS ANGELES (PRWEB) November 05, 2020
Trueface, the industry leader in the responsible deployment of computer vision, announced today that it has partnered with Modzy to bring Trueface's facial recognition and spoof detection capabilities to enterprises looking to incorporate artificial intelligence into their ecosystems. The Modzy platform offers pre-trained models from the world's leading machine learning companies, accelerating the adoption of AI by standardizing last-mile delivery.
"We are very excited to begin this partnership with Modzy and empower customers with our facial recognition and spoof detection technology," said Trueface CEO Shaun Moore. "We see the potential for enterprises who traditionally may have had difficultly operationalizing AI to quickly reap the benefits of our technology through the standard delivery of the Modzy platform's dockerized container solution."
Trueface has integrated its technology across industries to make customer environments smarter and more secure. Real world deployments like using facial recognition as primary or secondary authentication have notably increased security in critical environments like U.S. Air Force bases, while spoof detection has increased customers' bottom lines by mitigating digital fraud attempts.
"Our partnership with Trueface signals a breakthrough in computer vision applications," said Norm Litterini, Head of Partnerships at Modzy. "As we expand our marketplace in this high-demand area, we sought a partner who provides both best-in-class capabilities and a thoughtful, vigilant approach. Trueface is a critical capability to enable customers to quickly operationalize AI into strategic initiatives." To check out the Trueface models in the Modzy Marketplace, visit modzy.com.
About Trueface:
Trueface teaches computers to see like humans, interpreting the data they ingest. Once trained to understand the visual data in question, computers help businesses and agencies make instant decisions, allowing businesses to cut costs and agencies to redistribute human capital to higher-functioning tasks.
As a leader in computer vision, Trueface focuses on achieving equal performance for all without compromising speed and has achieved a top ten ranking in the NIST FRVT test. On-premise technology allows for flexible deployments within clients' environments on hardware, in their cloud, at the edge, and even offline. Trueface is committed to the responsible deployment of computer vision technology and ensures their businesses and their customers are benefiting from the advancements of artificial intelligence.
About Modzy:
Modzy is the leading enterprise platform to secure, govern, and deploy Artificial Intelligence (AI) models. Modzy helps government and private-sector customers meet the challenge of operationalizing AI by enabling rapid deployment, management and governance of trusted AI. Modzy's platform leverages embedded security, patented adversarial defense, explainability of model predictions, and governance features to help customers easily manage and quickly benefit from their AI investments at enterprise scale. Modzy offers choice with ready-to-deploy pre-trained and trainable AI models from leading companies and open source communities. Modzy accelerates the deployment of trustworthy AI while increasing transparency, lowering the barriers to adopting and scaling AI. To learn more visit http://www.Modzy.com.