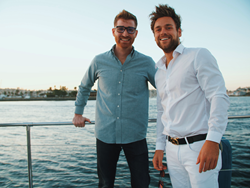 Get Paid To Post
INDIANAPOLIS (PRWEB) May 11, 2021
TrueFanz is the newer and better way for artists and content creators to get paid.
Paid-for content, of all kinds, has become the new side hustle—and the new side hustle is quickly becoming the new nine to five. Or, should we say, the work anytime you want and enjoy your life type of work that indeed angers the generations that came before us.
We're not talking about the online world of sex work either. Not that we're knocking it, it's just that selling your body isn't the only way to combat your debilitating student loans or afford a real one-bedroom apartment in a decent area. And that's while saving for the future as so many of us have been repeatedly told is the most important thing.
We're talking about turning your artistry into carefully curated content that the digital world enjoys so much that they show their appreciation by subscribing to your very exclusive network at a fixed price.
We're talking about TrueFanz, the new invite-only platform where not just any content creator or artist can join.
TrueFanz is the newer—and better—social media network that allows artists and content creators to connect with their audience. Or, better yet, their biggest fans. At first glance, it's easy to pass off this new network as another OnlyFans or Patreon, but we can assure you that it's nothing like your average content sharing platform.
So what makes TrueFanz so special?
For starters, the social content network was created by actual content creators—Tim Branyan and Logan Shippy.
Both Tim and Logan had a deep understanding of what they could get from these traditional content platforms, as well as what they couldn't get. One of those things—and arguably the most important—was the exclusivity that catered less to competition and more to giving true artists their due platform.
"Over the years we have built relationships with influencers around the world. We saw that one of the biggest problems for these influencers was making consistent and predictable income. A lot of them were doing one-time brand deals or product promos, or some type of 'sponsorship.' So, we decided to build a platform that helped influencers become entrepreneurs. This would mean that they could monetize their influence and turn their following into a legitimate business that generates a life-changing income." -Tim Branyan
One critical aspect of TrueFanz is that the social network doesn't allow pornography of any kind, whereas other platforms either regulate it to an extent or are well known for it. (We're sure you know which platforms we're talking about here).
It's important to note that the creators of TrueFanz aren't looking down their noses at online sex work. They just have the unique understanding that there's an infinite and rather general market for adult content. Wherever it's being sold, there will be an uninhibited market for it, and it'll inevitably take over, leaving all the true artists in the shadows to starve for their work.
"First off, we have massive respect for other platforms out there. We talked to top creators on other platforms before building TrueFanz. We wanted to hear what they loved and hated about our 'competitors.' Their insights were extremely valuable. There are a lot of models, artists, etc. that cannot associate their personal brand with a platform that endorses adult content. We are more of a wholesome platform, and we stay that way by guarding the door. Not all influencers can enter our ecosystem." -Logan Shippy
So, rather than cash in on the "sure thing," Tim and Logan decided that rather than compete with these platforms allowing adult content to take over, it would be better to cater to the real artists by creating a fair space for them to thrive.
Aside from nixing xxx content, Tim and Logan also decided to create an atmosphere of exclusivity, giving the artists on the platform the upper hand against the general competition. To do this, Tim and Logan made TrueFanz an invite-only affair.
That means artists and content creators must first request an invite to begin the signup process. Once they've requested an invite, their work will become subject to review. If their work meets the social network's quality standards, they'll be accepted onto the platform where they can create an official account, set their pricing, and start selling their carefully curated art and content.
Not only does this cater to the discoverability of artists and content creators, but it also generates a higher payout for those whose work is truly exceptional. That's the entire point. There's no need for supporters to waste time wading through hundreds or thousands of accounts just to find the worthwhile content that speaks to them. At the same time, the talented individuals selling their work on the platform don't have to worry about their name getting buried beneath loads of adult content or less than stimulating content.
Additionally, subscribers—or, huge fans of the arts and content—can pay extra for behind-the-scenes looks at the artists' process. Or, they can opt for some one-on-one time to pick their favorite content creators' brains.
The exclusivity method also weeds out any strange or inappropriate requests that come with the typical no-rules content platform environment. That's quite a fresh breath of air for artists and creators that are tired of being harassed over the internet when they're just trying to do their jobs. If you think about it, these things wouldn't be tolerated in the corporate world, so why should they be tolerated online?
"We decided to be invite-only, so we could have quality control. We want to get to know the creators that use our platform on a more personal level. We believe that strong relationships and communication are the foundation of long-term business success. We strategize with the influencers that use our platform. We show them how to leverage the different features to maximize their earnings." -Logan Shippy
Additionally, since TrueFanz was designed by creators with creators in mind, there's room for a higher payout. Compared to the competition, the TrueFanz platform is geared to better functionality and high payouts for the artists and content creators.
Essentially, TrueFanz is gaining traction and quickly becoming the best way for digital artists and content creators to sell their hard work. It's also quite advantageous for the audience that believes in supporting said work without having to worry whether or not the platform is getting in the way by taking an unfair cut from the artists' earnings.
"We believe that the biggest room is the room for improvement. The way that we win is by listening. We ask our creators for feedback and for their opinions on how we can be better. We know that if we build a platform that influencers love to use, they will be excited to promote their channels and convert more of their followers into paying fans. We are actually just about to launch TrueFanz 2.0, which we believe will take us from good to GREAT. We have developed new features, security, and beautiful aesthetics with a UI/UX design. With these new updates, we intend to "set the standard" in the rest of the industry." -Tim Branyan
TrueFanz is a community management platform that makes it easy for artists and content creators to get paid. Designed by creators for creators, TrueFanz is the platform where true artists can monetize their following, build an exclusive relationship with their biggest fans, and generate a predictable and recurring revenue stream for their hard work.
If you would like more information about TrueFanz or if you would like to apply for an account, checkout their website at http://www.TrueFanz.com