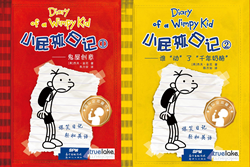 Jeff Kenney: "I'm delighted that we can now offer these stories to an even broader fan base of Chinese speakers and learners."
HONG KONG (PRWEB) March 23, 2021
TrueLake Holdings Limited ("TRUELAKE") announced today they have signed an exclusive worldwide agreement with Harry N. Abrams, Inc. ("ABRAMS"), represented by Andrew Nurnberg Associates Beijing Ltd., for TRUELAKE to publish Chinese and English-Chinese bilingual ebook and audiobook versions of the popular children's series "Diary of a Wimpy Kid." These new editions will be made available through TRUELAKE's distribution network with the potential to reach over 800 million users in China and over 40,000 schools and libraries in the United States and other countries outside of China.
"During my China book tour, I was amazed by the cross-cultural appeal of Greg Heffley and his adventures," says Jeff Kenney. "I'm delighted that we can now offer these stories to an even broader fan base of Chinese speakers and learners."
Yulia Borodyanskaya, VP, Subsidiary Rights and Export Sales of ABRAMS, says, "Since the beginning, Jeff Kinney's books have been extremely popular internationally. Our expanded relationship with TRUELAKE will better address not only the enthusiastic audience within China, but also the 80-million strong overseas Chinese market."
Cliff Miller, CEO of TRUELAKE, adds, "We see the 'Diary of a Wimpy Kid' books as tremendously useful language learning tools. In addition to the pure enjoyment that the series brings its readers, the books are a great opportunity for kids to improve their reading and language skills in a casual and fun environment."
Many of the "Diary of a Wimpy Kid" Chinese and English-Chinese audiobooks and ebooks will become available immediately through leading book distributors, with the latest volumes appearing on the market once the Chinese translations are completed.
The "Diary of a Wimpy Kid" series has been a fixture on the USA Today, Wall Street Journal, and Publishers Weekly bestseller lists. The series has remained on the New York Times bestseller lists since the publication of the first book in 2012. The books have been sold in more than 44 territories and in 42 languages. Published by Amulet Books, an imprint of ABRAMS, Kinney's work has been widely praised for its ability to turn reluctant readers to books. Jeff Kinney was named one of Time magazine's most influential people in the world. Three movies based on the book series have grossed more than $250 million internationally. The book series won four Nickelodeon Kids' Choice Awards. Books in the series have won numerous awards voted on by students and teachers around the globe. The Wimpy Kid Island (Wimpy Wonderland) on poptropica.com, a virtual world for kids, remains one of the most visited on the site.
======
About the Author
Jeff Kinney is a #1 New York Times bestselling author and a six-time Nickelodeon Kids' Choice Award winner for Favorite Book for his "Diary of a Wimpy Kid" series. Jeff has been named one of Time magazine's 100 Most Influential People in the World. He is also the creator of Poptropica, which was named one of Time's 50 Best Websites. He spent his childhood in the Washington, D.C., area and moved to New England in 1995. Jeff lives with his wife and two sons in Massachusetts, where they own a bookstore, An Unlikely Story. For more information, visit wimpykid.com.
About TRUELAKE
TrueLake Holdings Limited is a media publisher, specializing in Mandarin content. It produces and distributes bestselling audiobooks including Mandarin versions of Dan Brown's "The Da Vinci Code," Stephen King's "It" and "Rita Hayward and The Shawshank Redemption," George R.R. Martin's "A Song of Ice and Fire" series, popularly known as "Game of Thrones," and Mandarin and Mandarin-English bilingual audiobook and ebook versions of "Diary of a Wimpy Kid" by Jeff Kinney. In 2020, TrueLake began producing video content. TrueLake's distribution channels include the major Internet audio platforms in China, reaching over 95% of the Chinese audiobook market. Its international sales efforts are shored up by its distribution network to over 40,000 libraries, schools and institutions, as well as to individual users.
About ABRAMS
Founded in 1949, ABRAMS was the first company in the United States to specialize in illustrated books. The company continues to publish critically acclaimed and bestselling works in the areas of art, photography, cooking, craft, comics, interior and garden design, entertainment, fashion, and popular culture as well as narrative non-fiction and new works of fiction for adults; and children's books ranging from middle grade to young adult fiction to picture books to board books. ABRAMS creates and distributes brilliantly designed books with the highest production values under the following imprints: Abrams; Abrams ComicArts; Abrams Image; Abrams Press; The Overlook Press; Abrams Books for Young Readers; Amulet Books; Abrams Appleseed; and a gift and stationery line, Abrams Noterie. ABRAMS also distributes books for Booth-Clibborn Editions, Cameron + Company, Alain Ducasse Édition, Getty Publications, Lucky Spool, Ludion, The Museum of Modern Art, Obvious State, SelfMadeHero, Tate Publishing, V&A Publishing, and The Vendome Press.
About ANDREW NURNBERG ASSOCIATES
Andrew Nurnberg Associates was founded in London in 1977. We represent authors from around the world in the fields of literary and commercial fiction and general non-fiction, as well as children's authors. Several have received major prizes, ranging from the International Prize for Arabic Fiction to the Prix Goncourt.
In 1993, we opened our first overseas office, in Moscow, and three years later opened offices in Bulgaria, the Czech Republic, Hungary, Latvia and Poland. Our Beijing office opened in 2002, followed by Taipei in 2003 and Istanbul in 2015, when we partnered with AnatoliaLit.
From our offices in London's Greville Street and through our overseas offices we place books in translation throughout the world on behalf of UK and US agent and publisher clients.
###
CONTACTS:
Over the River Public Relations
Rachel Tarlow Gul
rachel@otrpr.com, 201-503-1321
TrueLake
Cliff Miller
cliff@truelake.com, 415-324-9903
Harry N. Abrams, Inc.
Hallie Patterson
HPatterson@abramsbooks.com, 212-229-8823